"Fixed it" again by re-installing the OS. Wonder how long this "fix" will work?
I'm one of the lucky ones with minimal issues downloading these new "builds". My setting is: MacMini (2012) as the 'Core" → Synology NAS (local files) → Ropieee XL → Gungnir DAC. I use a MacPro and iPhone 12 as the controller. Also, have several system throughout the house (wireless) Sonos and Chromecast Audio. They all updated with minimal issue. The only inconvenience was that I noticed discrepencies related to my database, several albums with different covers, some that I had inputed myself, and songs order. But, that is a small problem to have compared to the many folks with the existent issues.
Even though, I'm fine, my concern is having so many folks not being able to enjoy Roon new build, this is a small niche, and theses issues can spook existent and future customers. I really love Roon and want to see it grow. I have to say, that after reading at first some of the responses, from the "happy" customer, I've noticed more people helping the individuals with problems which is great.
Peace,
Tony
I also do not have any issues - many probably do not - but of course the ones who do have to be taking care of

That's how it should be

Peace,
Tony
Yes, and that is exactly why I did not like any of the streaming services' own software and that is exactly why I made the switch to Roon. I don't want any generic playlists, they serve zero purposes for me and are only irritating me. What we get now serves only the average mainstream customer. It is just the same as any of the generic Spotify, Tidal, Qubuz playlists, exactly the kind of lists I was trying to avoid. The recommendations are getting highly annoying. I get artists on my home screen that I don't even remotely like while my own music gets buried away even further with each new recommendation feature. The interface is in desperate need of some user customization, more than ever before.
Hi Robert I tried Hazy, there was the odd house track that I liked, but most of what's offered would not fit my normal listening profile (Or preferences). I'm not really an upbeat house, repeat beat fan, although I don't mind the odd deep house track, and love artists like Kids0.
I prefer artists like Daniel Avery, Floating points, Alessandro Cortini, Hedflux, Rival Consoles, Nils Frahm, Noosfaere… etc.
I too am eclectic in what I listen to, but I gravitate to experimental/ambient/techno. I also love certain jazz, jazz/fusion, metal and indie folk.
I very rarely listen to traditional classical, I would more naturally gravitate to modern day electronic classical geniuses like Nils Frahm.
Anyway, as I have stated before a level of curation and or customisation allowing tailoring of listed genres (of interest) would go a long way.
Tile tailoring should be pretty straight forward to implement.
The ability to show/hide tiles is a no brainer, IMO.
A simple preferences checklist, like when you join Reddit, etc could serve content more directed to preferences.
More ideally, would be "AI" style customisation and tailoring of music playlists/tracks/suggested artists.
Alternatively, being able to place your own curated playlists on the home page might be a great solution.
Build 882 seems to have addressed the memory leak I detected before. RAM usage is stable, only gets bigger when needed for this weekend.
Having some erratic behavior with my chomecast audio endpoints still. Sometimes they play normally a whole playlist, sometimes then hang up on the first song.
The display port seems to have changed from 9100 to 9330. Not sure why? All users that use a web display have to find that out and use the annoying tv interface to update it.
It looks like quite a bit of new photos are showing up on my display via Chromecast.
If you've been one of the people out there adding new art, I want to pass on my gratitude. Casting what's playing to the nearby TV is one of my family's favorite Roon features.
Thanks!
Why are the new releases so static?
The pink floyd ones have been here for ages.
How often should they change?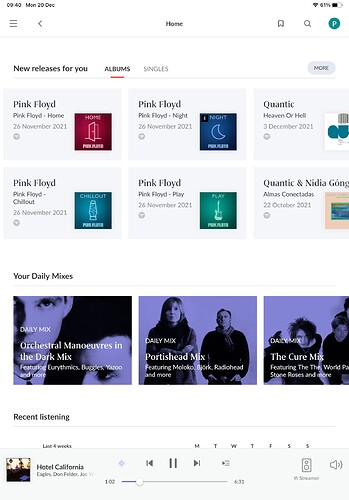 I expect we have new releases when new music is released… I'm not sure Roon have any influence here…
The port number used by Roon for the web display is not fixed because it depends on what is being used in the local network and is always displayed in Settings > Displays. The reason for the change of range was stated here:
What is the general consensus here regarding the Album/Artist views in Roon? They're loading really poorly here and the experience browsing the library is worse than ever.
I have a very fast and reliable network and Core is wired. A reasonably sized library of just south of 200K tracks (around 8Tb) running off of a couple of Cores, all well within spec.
For what it's worth, the Home-view loads just fine with the "squiddy" only visible for less than a second. It's my "90%" view, Albums that seem mostly affected…
All my albums are grey after the update, wgat went wrong?
Not slow here. I only have 50/20mb link.
Library size? Local media/Online services?
I'm not suspecting the internet access, it's the method of populating "thumbnails" on the Controller over the local network.
This is what i'm seeing: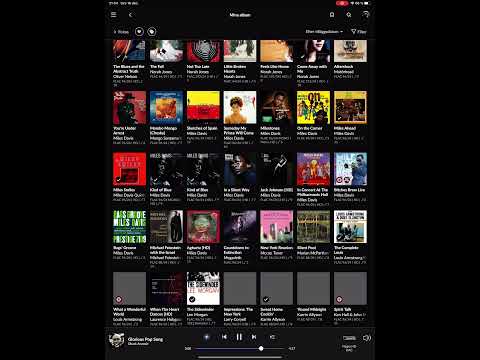 It looks as though your thumbnails are caching.
Did you just do the upgrade?
I suspect if you view these albums again, it would be alot faster.
Roon have stated on a number of occasions the thumbnails need to cache, over the coarse of normal use.
I have the same loading times, give or take on first viewing.
Once cached, loading is instant.
I have about 27k local tracks.
Once again, the next day we're back to the same problem.