The new Chromecast screen looks fantastic!
Thanks Team Roon!!!
Yes, the 'Currently Playing' to a Chromecast based display is much better, but the image displayed on a iPad is now pants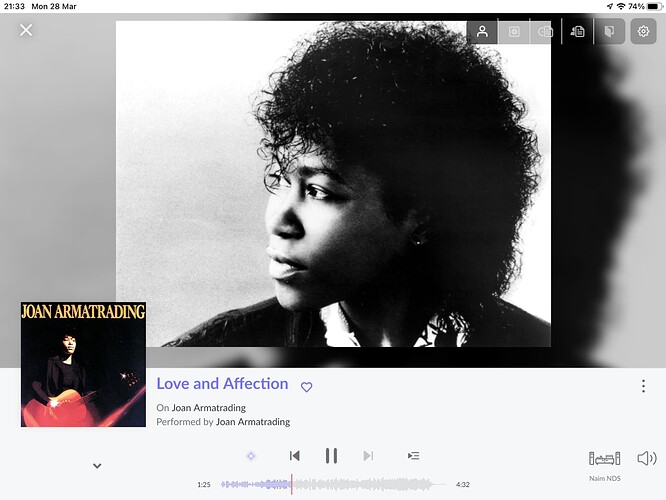 Can I have a full image back here, please?
It's the same on the Macbook. The only difference is that on the Macbook it is at least well centred and you don't get the unequal gaps top and bottom. Not a fan of this new now playing screen.
I found artists which don't display anymore:
Artist page:
Now playing screen where artist photo is missing:
I am sure I will find more if I start looking.
Whilst I DO appreciate Roon rolling out updates, I feel that every new update fixes issues but creates others.
EDIT: Found another one…
Agree, but at the expense of every one of my 50+ Playlists
My system is running great! Thanks, Roon!
What is the latest remote build? 918? or does a 923 exist for remote, as well? Nothing for Remote 923 is available in the App Store
Thanks
Thank you for totally destroying the Now playing display. At least for us who have made artist pictures
locally at 1920 x 1080 like me. Maybe it works fine for those who use valence, but for me once again i get very disappointed.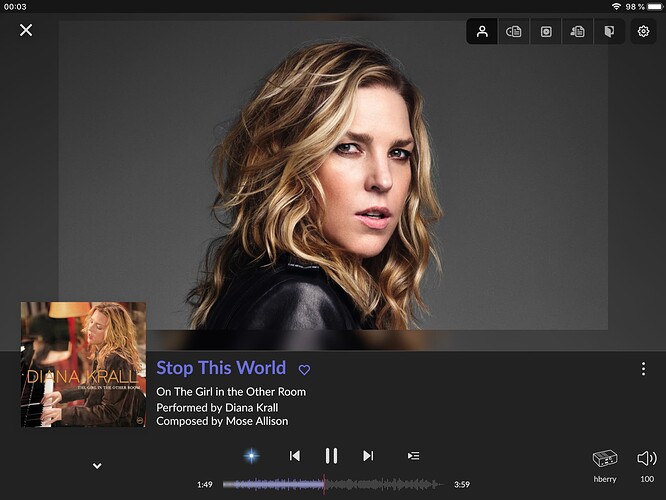 This is what it looks like on Ipad. Looks the same on my Mac. A picture at 1920x1080 always have filled the screen before.
While scrolling (Album view) on my iPad 12.9 (gen 3) wasn't an issue it now is!
Call it choppy, jerky or whatever it is now very noticeable immediately after updating to Build 923.
Good luck trying to resolve this one

While nothing changed during the update process I have included support details, should they be needed.
Roon Core Machine
Quiet PC Windows11 pro 64 bit, Intel I5 CPU, 16GB RAM
Main Library Storage area Samsung T5 1TB USB-C SSD
Networking Gear & Setup Details
BT Smarthub 6 router, wifi via BT Whole home 6 mesh wifi & Trendnet Eco network switches. Core = ethernet to router.
Connected Audio Devices
Core connected, via USB, to Chord Mscaler/Dave
Additional endpoints Muso, MusoQB, iMac.
Controlled via iPad 12.9pro, iPhone 13, iMac 24"
Library Size
28K+ tracks
Upgraded fine here, no apparent issues. Scrolling really smooth on my Pixel 4 now. New Chromecast display looks good.
Roon app on iPhone keeps crashing after the upgrade. Trying to change name on a device and hitting enter instantly crashes Roon on my iPad as well.
iPhone 13 Pro 256GB, iOS 15.4
iPad Pro 2018 11 inch, iPados 15.4
Playing to KEF LSX.
One thing I would really like to see on the Chromecast screen is the Recording Release Date and the name of the Album.
I know that the name is often on the album cover artwork but it's often too small to read from a seated listening position. It's even smaller now with the new redesign.
Love the new chromecast view - haven't gotten into the local client view and looking forward to it. One thing I notice is occasionally the background art doesn't update. For example:
I played a song by London Grammar. Foreground and background artwork correct
Next track was a song by Lane 8. London Grammar background still up
Next track was a Zhu song. Zhu foreground and background art correct
4 Next up was a Tegan and Sara song. Tegan foreground then London Grammar background returned
Next up was a track by Fresh Mode. London Grammar background up
In the attached picture, the playing song is by Lane 8, but the background art is London Grammar which played previously.
I've had this issue since I installed Roon nine months ago but based on my (albeit short) time today this appears to have regressed significantly as I've now seen improper artwork on many tracks. It seems to have something to do if the playing song has sparse details in Roon - and today was up there for several tracks in a row until I played a more mainstream artist where it was replaced by the proper artwork.
Can this be fixed?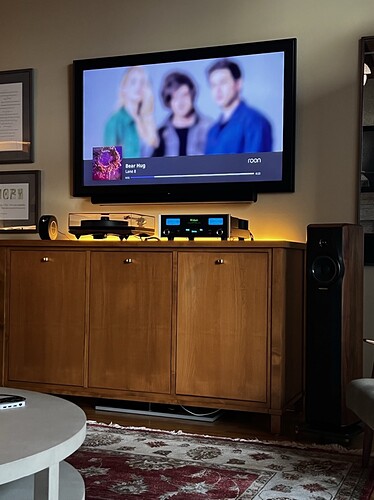 Nice look with the backlighting!
Also getting crashes on iPhone. Haven't tried MacBook yet
Thanks! That's a gradient strip so I can do some really cool colors with it. Also have a scene that mimics the McIntosh Blue meters which looks incredible

Why was Roon Radio (playback continues after…) re-enabled in this release?
iPhone app crashing constantly. I have about 15 seconds, no matter what I do, even nothing, then crash.
Build 923 is crap. Thoroughly messed up the sound quality for audiophiles with reference systems. Hmmm!