Note: A reboot of my iPhone after the update seems to have fixed the crashing issue I was experiencing.
I can confirm crashes on the Windows client don't happen anymore and it's so much faster, good update.
Changes to "Background audio analysis speed" are reflected in the UI but are not taking effect. UI correctly shows 16 cores available but regardless of choice remains in "Throttled" mode. Was working prior to 933 (I always up the cores when I add multiple albums so is tested often)
Not looking for support just providing feedback.
Hi,
After the last update my playlist links disappeared. How can I restore it?
Thanks
This seems to be my experience as well. The PC app shut down on me twice after the update, while I wasn't even playing anything (Win10, 16GB RAM).
The lags when changing tracks or albums have increased even more in this version. Up to 20 sec if previous song has been playing for >3min. Core on a Mac Mini M1.
Hi,
That was my first try. Have disabled the setting and then re-enabled it. I also restarted the core
I see the same behavior.
I used to have the setting on 1 core, but after the update all analysis is using throttled mode, regardless of the selection made here.
I think I see the same behavior. Analysis is running slower than I expect. But how on a Windows 11 machine can I see how many threads roon is using?
Running Roon Core on QNAP NAS, update all ok with no issues.
Now realised that the Background Audio Analysis speed (Library) is super slow and this even when activating all 4 available cores results in NAS CPU load hardly over 1% and progress about one title per minute. Any advise what to do?
I have a Nucleus + and notice that the Background Audio Analysis speed is running slower than it did with other versions.
Task Manager will allow you to add the Threads column to its Details view in Windows to see a thread count per process. Alternatively for greater detail you can use the Sysinternals tool Process Explorer
1.8.933 Back button results on Windows 7 client with Nucleus+ server after selecting:
Home - unresponsive
Genres - unresponsive
Live Radio - works
Albums - unresponsive
Artists - unresponsive
Tracks - works
Composers - unresponsive
Compositions - works
My Live Radio - unresponsive
Playlists - unresponsive
Tags - unresponsive
History - unresponsive
Settings - works
Thanks for the work on search in the last 2-3 dot releases: these days I'm getting much more useful results from searches.
I posted this elsewhere on April 12th (build 931); I'll add it to let you know it's a problem for me as well.
I can't successfully duplicate the steps to reproduce this problem, but every now and then, the "Back" arrow stops working. I can click endlessly, but nothing happens. Very frustrating, and I can't say for sure if it's due to the latest build.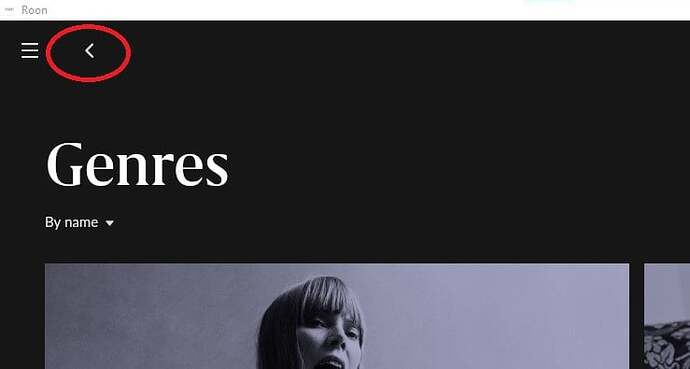 I'm pretty sure it's down to Roon's servers. I had 933 working fine until an hour or two ago.
Search seems to be affected too.
Michael
Just to add to everyone else, Search function seems disabled with latest update. Running Roon on a Sonictransporter, latest IOS and MAC OS