I was really looking forward to the improvements in classical music organization promised in roon 1.8, and I like what I see. The challenge however is when you use the new interface to attempt to play any music.
As an example, if I choose a composer, say Mozart. I then get to see a list of his "Notable Compositions" by type: Operas, Concertos, Symphonies, etc. Mouthwatering.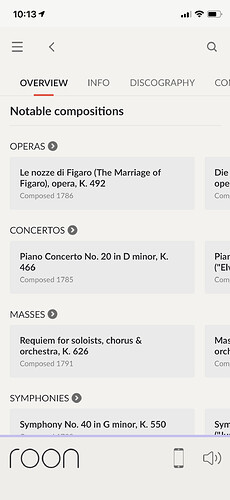 I am in a mood to enjoy a piano concerto, so I tap on through to the concertos and get a list of his concerto compositions, with a very inviting "Play now" button at the top of the page. What could be better?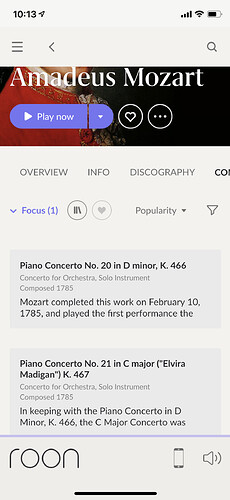 Tapping the Play now button, however:

. I get the "unexpected error, restricting roon radio to library" message and some random track, not a concerto, starts playing. I have tried this with other composers, other forms, etc but no joy. I have Tidal and other music, like Jazz, Rock, etc plays perfectly fine through Roon/Tidal. It's just the classical bit that doesn't seem to work.
Very disappointing, wonder whether others are facing this issue as well.