Roon Core Machine
Qnap NAS
Networking Gear & Setup Details
IliadBox router connected to NAS by powerline TPLINK.
Connected Audio Devices
Aqua La Scala MK II
Number of Tracks in Library
About 25.000 tracks.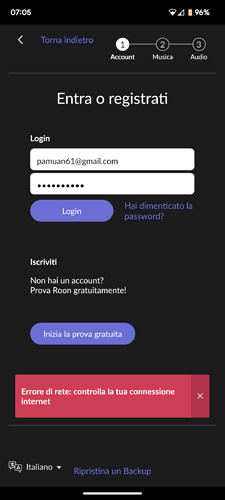 Description of Issue
I've always had Roon in this configuration since about 4 years, working fine.
Since i changed my network provider (from Vodafone to Iliad) i had a problem connecting my android app on the cell phone to my ROON account, just to let the app start. My ROON core is "seen" by the app, but I just can't connect to my account because of "networking problems (not connected to internet)" that I really have not. I tried to switch the telephone off, to discard and download again the app, but I still have the issue, and I cannot use ROON.
I can connect to my ROON account by a PC in the same network.
Would you be so kind to offer my an help?
Thank you in advance!