Has Roon solved the problems with Catalina locating music files with Nucleus yet?
Hi @Fred_Imberman,
Can you please be a bit more specific as to the symptoms of this issue? We resolved a Catalina issue back in October, is this the one you are referring to?

I have downloaded the most current software and everything works well except I cannot provide a share path to my iMac for my music and storage files since upgrading to Catalina. If I revert to Lion, Roon sees everything including my iTunes music folder.
My iMac, nucleus, and Streamer are all connected to the network via Ethernet. Is this fix good for the Nucleus which I think is a Linux system?
With Lion my share location is \fred-2.local\ music. Catalina shows a new location: fred.local but Roon will not accept this path using music as the folder.
Roon has also created some kind of duplicate music folder after installation of Catalina. Files are shared and Roon seems to have permissions.
Hope this makes sense as I am not at all familiar with all of this or tech savvy
Fred
Hi Fred,
Check out this KB article. Notice a recent addition at the end of the article.
Cheers, Greg
Noris,
I have done everything specified. I can connect Roon to my old iMac with Lion with no problem-the location is:Fred-2.local\music. On new iMac with Catalina the address indicated is : Fred.local. To this I add \music but everything I can think to try comes back invalid path from Roon. Storage path is invalid also. Help,
Fred
Hi @Fred_Imberman,
Can you please share a screenshot of your Mac's Sharing settings?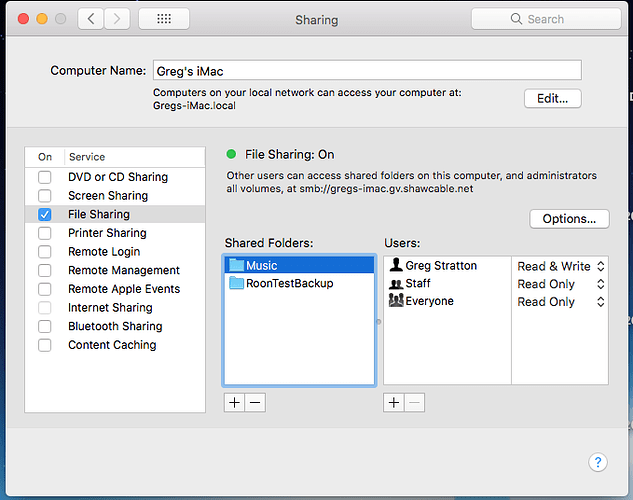 Do you have any firewalls running on the Catalina machine (such as Bullguard/Little Snitch/McAFee)? Is the behavior the same if you temporarily disable these?
Hi @Fred_Imberman,
The screenshot is from the PC you wish to add to your iMac share, correct? If so, it looks like the path should be smb://fred.fios-router.home/Music, can you give that a try?
Noris,
This does not work. Notice screen shot says computers on local network can access at fred.local. On my older iMac with Lion the access is fred-2.local and I can supply
the path as \fred-2.local\music and all is fine. Please confirm that Catalina fix is operative for cores installed on Nucleus at this time. Also, does the duplicate Music copy that Roon created affect anything? Should I delete it? Should I give Roon control of computer? Wonder if there is some problem with permissions.
Hi Fred,
If you can use Roon on the Mac, then the Catalina fix works.
A couple of things:
Did you click the File Sharing check mark in your screenshot above Off, then On again?
Try using smb://Fred.local/Music and don't forget your username and password.
Cheers, Greg
Greg,
This worked, all systems go. Many thanks,
Fred
Hi @Frank_Imberman,
Glad to hear @Greg's suggestion worked for you!
Noris,
Thanks for your help. As a matter of interest, I had 700+ additional albums in my library after the Catalina scan than I had previously when Music folder was scanned with Lion. They do not appear to be duplicates- wonder why? Also, should I delete the Music copy folder or just leave it alone?
Thanks,
Fred
Do you have "Show Hidden Tracks and Albums" turned on in your Roon Settings?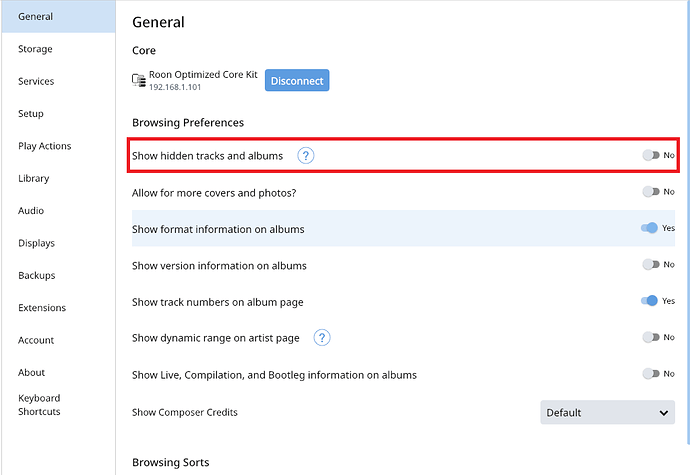 Can you share a screenshot to clarify this? Are you seeing this folder in Roon Settings -> Storage? Are the contents of this folder the same as any of your other watched folders?
Show hidden tracks and albums is turned off as above. Not sure of your response, it is good that an additional 700 of my albums turned up in my library count, just not where they came from and why they were not included when using Lion and the location for the path specified by Lion.
The Music copy folder does not appear Storage, nor can I add it using smb://fred.local/Music copy which is how I successfully added the path for the Music folder it is now watching. Attached are the Get Info results for each which I believe show the content: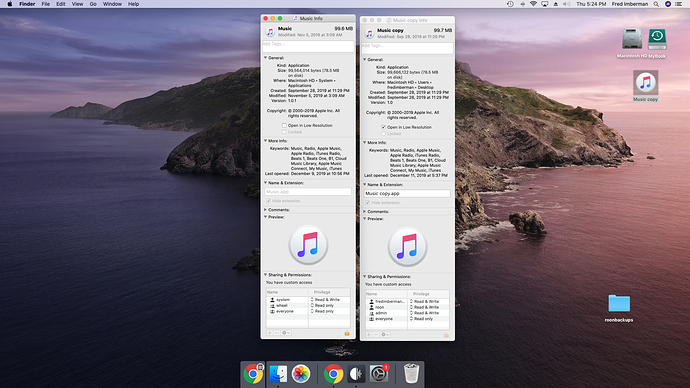 Hope this is clear.
Thanks, Fred
Hi @Fred_Imberman,
I'm not sure what the Music info you sent have to do with Roon. I would find one example of a track that appeared on Catalina but not appeared on Lion and right-click it -> go to the 3-dot drop-down menu and check the file path: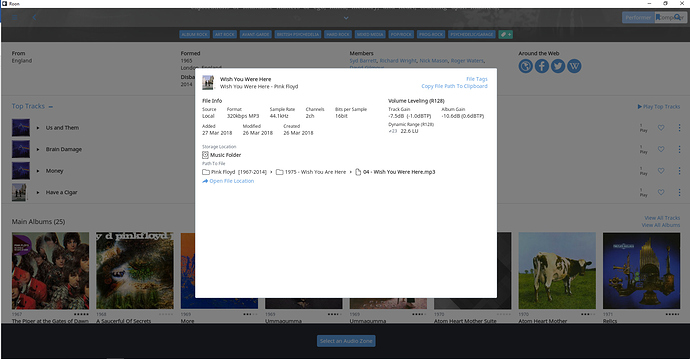 It is possible that you have additional storage options listed in Roon Settings -> Storage that were not present before.
This topic was automatically closed 36 hours after the last reply. New replies are no longer allowed.