Core Machine (Operating system/System info/Roon build number)
Core: Roon version 1.8 (build 756) stable running on ROCK Version 1.0 (build 227) stable
App: Roon version 1.8 (build 756) stable running on macOS Catalina Version 10.15.7
Network Details (Including networking gear model/manufacturer and if on WiFi/Ethernet)
Switched GigaBit Ethernet
Description Of Issue
I have a strange issue: I have the album "Purple Mountains" by artist "Purple Mountains" added from Tidal to my library. All was well, I could see the album page as well as the artist page. All of a sudden - I cannot remember doing something special - I cannot go to the artist page anymore. The Roon window is "frozen" - not even the Roon logo is pulsing anymore. Roon.app gets unresponsive and has to be killed.
Here's a screenshot of the album page: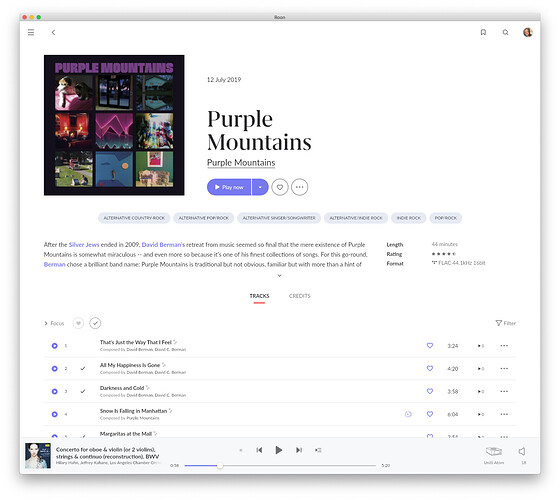 And here's a screenshot after clicking the artist name "Purple Mountains":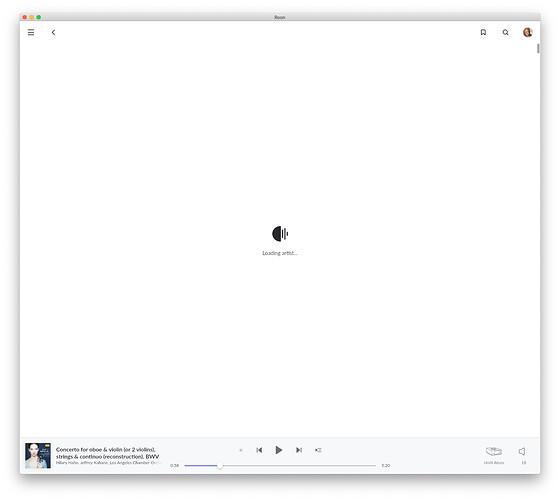 The Roon logo is not pulsing, the MacOS mouse pointer is changing to the "BeachBall" and the application is not reacting anymore:

I can kill Roon.app but on starting the app again, I have it again freezing. I already tried re-installing a fresh download of Roon.app - but that did not help.
I also deleted the album from Tidal favourites and added it again - same problem.
Access via iPhone and iPad is working normal. Access via my MacBook is also working normal. Only my Desktop iMac is affected.
Any help is appreciated. Thank you very much.