I listen to Roon ARC while walking and I've noticed that signal becomes lossy after a while. For example, today I started listening to a 96 kHZ, 24 bit piece from Qobuz while still in my Wi-Fi network. Sihnal quality was fine as shown here: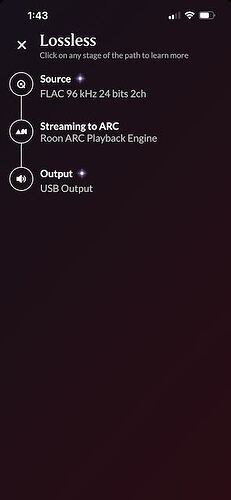 After a few minutes walk I entered 5G land and a bit later the music briefly dropped out (less than one second) and when it came back the signal was lossy MP3 as shown here: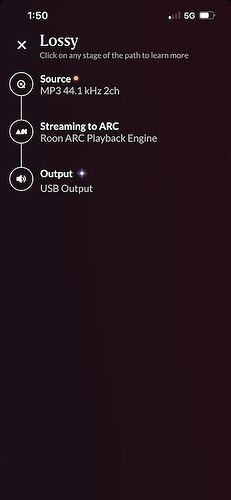 This has been going on for several weeks and once it goes lossy it stays there, regardless of signal strength or whether 5G or LTE. Today I shut down Roon ARC when this occurred and streamed the same piece direct from Qobuz. It stayed at 96 kHz for the whole walk (1.5 hours).
My portable setup is an iPhone 13 Pro feeding an iFi Audio xDSD Gryphon DAC/Amp that powers Focal Elegia headphones. Provider is Verizon Wireless.
My home setup is a Roon Nucleus connected to a Synology RT2600ac router and controlled with the Roon app on an iMac and iPad. All operating systems are the latest available. Provider here is Comcast Xfinity with download speed of 230+ Mbps and upload of 12 Mbps.
Have I missed a setting along the way? Or is this to be expected?