Roon Core Machine
Fedora Server 37 // Intel NUC10i3FNH // 16GB RAM
Networking Gear & Setup Details
AVM FRITZ!Box 7590 AX
Connected Audio Devices
3x Raspberry PI 4 // Raspberry OS Bullseye 64bit
Number of Tracks in Library
Description of Issue
1. Roon Bridge not releasing audio device
I run Raspberry Pis as endpoints running Roon Bridge. Everything is working fine so far but I recognized that sometimes I cannot stream to the Pi using Airplay 2 via Shairport Sync. I found out that after I reset or remove a group of players Roon Bridge keeps the audio device busy.
If I start playback via Roon and stop it for one endpoint I can then use Airplay. If I add an endpoint to a group and remove it I cannot use airplay afterwards on the removed device:
shairport-sync: warning: The output device "default" is busy and can't be used by Shairport Sync at present.

pi@pi-schlafzimmer:/ $ sudo fuser /dev/snd/*
/dev/snd/pcmC0D0p:     866
pi@pi-schlafzimmer:/ $ sudo ps aux | grep 866
root         866  0.6  3.2 1469656 62204 ?       Sl   Dez27  17:08 RAATServer --debug --gc=sgen --server RAATServer.exe

Long story short: If I stop playback to a Roon Bridge endpoint the audio device gets released. If I remove a device from a group it does not. Is there a way that Roon Bridge releases the device if there is no playback?
Backslash in iOS app
If there are cornered brackets in a song title you get a backslash within the mini player.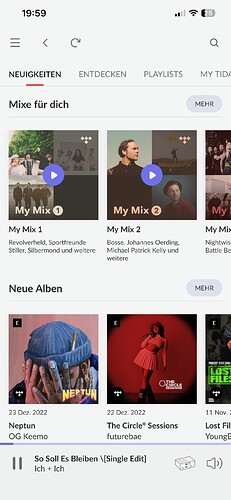 Calculation in signal path instead of result
In the ARC iOS app within the signal path sometimes the formula is shown instead of the result.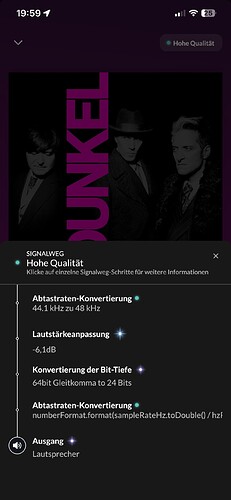 BR
Michael