Hello Guys,
My Roon core is running in a Nadac Player and I am trying to connect the Roon with my Lumin L1 music library. Unfortunately, I am following all steps to do that without sucsses. Anybody can help me in what I am doing wrong?
My Lumin directory is:
LUMIN L1 (the name of the unity)
Demo A; Demo B; Demo C (folders)
Inside de Demo's folders are music files.
smb://LUMIN L1/Music
smb://LUMIN L1/Demo A/Music
smb://192.168.1.118/Music
smb://192.168.1.118/Demo A/Music
I tryed all of possible path names. Unfortunately, I just for it the following message:
Could not connect to share: Host not find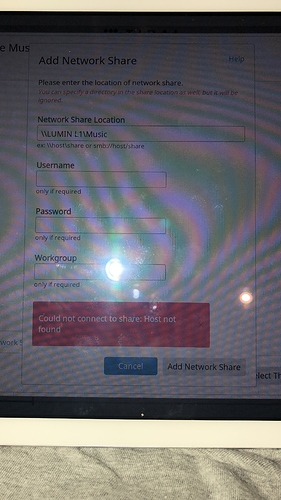 I can see the L1 in my net by Fing application. So, the problem is how to connect the L1 by Roon!!!
Many thanks,
Daniel