Core Machine
NUC8I5BEH3 I5-8259U, Samsung 250GB 970 M2, 8GB DDR4, ROCK installed
Network Details
NUC connected by Ethernet to router Virgin Hub 3. Router connected by Ethernet to Linksys Velop Mesh master node for WiFi across the house (four nodes in total).
Audio Devices
Cambridge 851N (Roon Ready) connected to Linksys WiFi
iMac (and Project Pre Box Digital S2)
iPad (Linksys WiFi)
iPhone (Linksys WiFi)
Sky Q (AirPlay)
Sony TV (Chromecast)
Sonos One (x2 WiFi)
Library Size
44710 tracks (connected to NUC by USB to a 4TB external hard drive)
Description of Issue
System up until yesterday was working well, with Roon basically being predominantly used by two main devices, the Cambridge Audio 851N and my iMac. Both connected to the Linksys WiFi.
What changed was that before yesterday, the NUC with ROCK was connected via Ethernet to the Linksys master node. However due to the installation of WiFi in the garden office, the NUC was disconnected (sadly whilst on) from the Master Node and connected to the router directly (and the router stayed constantly connected to the Master Node by Ethernet). However since then, when connecting to Roon on various devices (iMac, iPad, iPhone), it no longer recognises many audio devices on the network, only seeing those on Airplay, Chromecast or Sonos. It no longer sees the 851N or the iMac. On the audio section in settings (see image) it lists a load of options I don't recognise and just those on Airplay or Sonos.
So removing the Ethernet connection from the NUC to the master node and plugging direct into the router seems to have caused an issue.
It looks like I can access the full library as before, but I can't play them on my audio devices. Any help would be appreciated!
Add images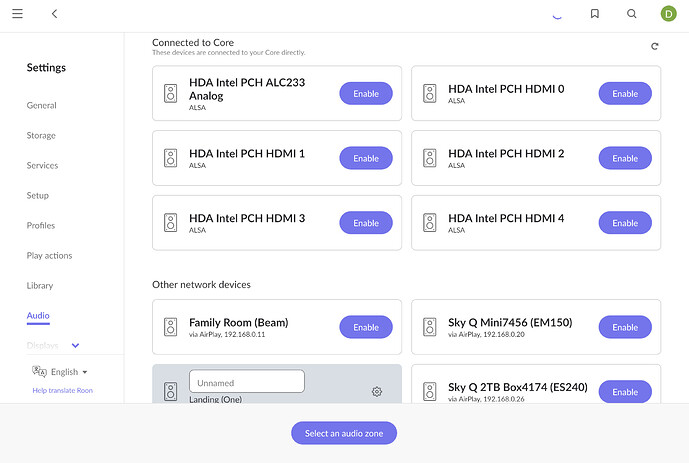 ![image|689x463](upload://g6CXSIxxhUuuJqm2Aaah7iwlzdv.jpeg)