Hi @danny2 ,
Are you still seeing this behavior even on the latest Roon version?
Yes. When the PC comes back from sleep, or sometimes even it I switch to another app for a long tiem and then come back to Roon. The app will be unresponsive. I have to close it and reopen it to get it to work.
That's exactly what I am still seeing as well.
Hi @danny2 ,
We are seeing Roon try to change to a very strange resolution just before the crash:
Debug: render area size changed value: 1706.667x881.3333
@danny2 / @Jamie_Tudor - Can you please provide some more details on the monitor setup of your affected PC? Can you please open the Windows Start menu and type in "System Information". Then, share a screenshot of System Summary and Components → Display?
Hi-
I'm using an HP 360x laptop, 15.6 inch display.
Native Resolution is 3840 X 2160 which is what I use.
Sometimes I change the resolution to 2560X 1440 in order to logon to a remote setup and see the desktop properly. I don't use Roon while I'm doing this.
screen capture: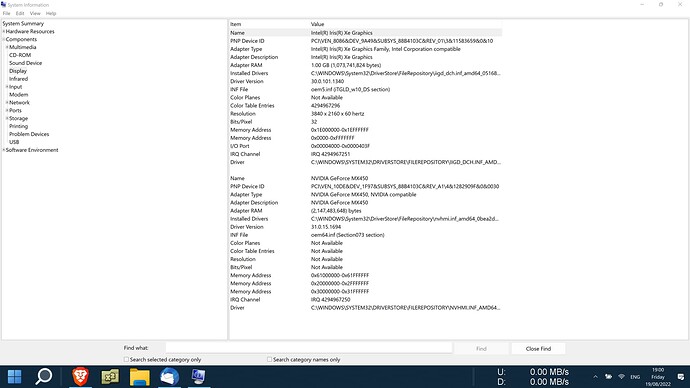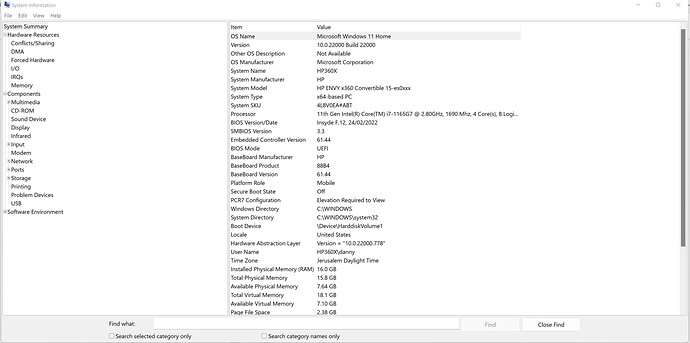 Hi @Jamie_Tudor and @danny2,
I apologize for the delay in responding, as the team liaised internally with development and QA to investigate the issue you're experiencing.
As a follow-up troubleshooting step, are you able to attempt the following at your convenience and let us know if it changes or relieves the symptoms you're experiencing?
Navigate to the following system file in Windows: C:\Users\(user)\AppData\Local\Roon\Database\Registry\Client\saved_window_pos
Change the values within that file to something out-of-bounds (a very large or a negative number)
See if the behavior in Roon changes at all.
We'll be standing by with additional steps after your response, and we should be able to identify the issue promptly from there. Thank you again.
Additionally, do either of you have any third-party software that might interfere with the render size? Streaming broadcast software, emulators, or virtual OS platforms are all examples.
Hi
I'm away from home. Will get back to you next week.
Hi there. I shut down Roon, changed all four variable in the position file to very large numbers, then restarted Roon. Presumably as expected, the Roon window opened in an odd window size, and then the position file was overwritten with new values.
An hour later the application crashed as normal - this change hasn't had any effect.
I'm not running anything exotic on the PC - VMs, broadcast software etc. Just office software, browsers etc.
Thanks
Jamie
I put in -1,000,000.
Seemed to work for the first couple of days. But just now the program froze when I came back to it after using my mail and browser programs. It did recover on it's own (no crash), but I had to wait to see what happened and then proceed.
Following up to see if there's been any progress on fixing this. The new version of Roon 2.0 still crashes, albeit less frequently I think.
Agree. Still crashes/freezes, but less often.