Core Machine (Operating system/System info/Roon build number)
Roon Core 1.8 on Synology DS918+, DSM 6.2 ?, and also tried Mac Book Pro with Big Sur.
Network Details (Including networking gear model/manufacturer and if on WiFi/Ethernet)
Modem motorola surfboard , all working well including Plex.
Audio Devices (Specify what device you're using and its connection type - USB/HDMI/etc.)
Naim ND5XS
Roon will not see audio devices, I have had small green computer move Roon Server 1.8 from the Synology NAS as Roon would not See squeezebox Lite, or any audio set up (NAIM ND5XS) in Sonore UPnP. Roon server was working when moved to MacBook Pro. Now have restarted MacBook Pro and Roon will not find squeezebox lite nor any audio outputs (end points - very confusing you need to get your names sorted out). I do not have any Logitech LMS installed, but this seems to be the default catchall for ROON issues.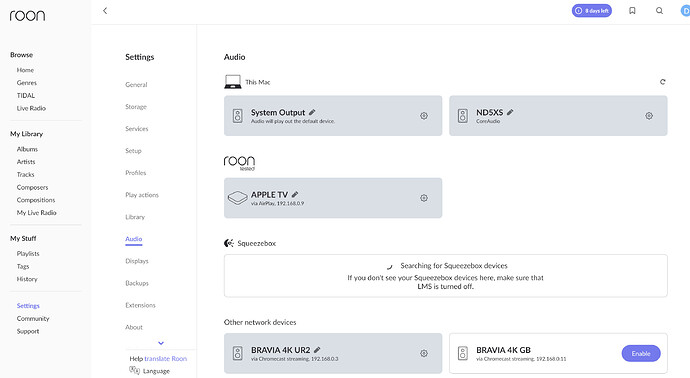 The above was working yesterday on MacBook Pro and never on Synology.
This is my second attempt to use ROON over the past year and both times a disaster. The forums here on Naim and Synology are all useless. It was only the Knowledge of Small Green Computer that has any success. Now Roon not working.
My observations is that Roon does not play well with 3rd party vendors.
Appreciate if you can resolve this issue as I want to run Roon Core on Synology NAS , ofd which V 1.7 did and 1.8 does not work with either Mac, Synology or Sonore. I have 8 trial days left and will cancel trial and move on if you cannot assist in getting Roon working. A customer should not have to spend days getting this working . K regards Dan