Description My Setup
Details on your Core machine (OS, Hardware specs, Roon build)
Pinkfaun 2.16X Server, running on Audiolinux, AMD 7 3700 processor, 16GB RAM, 1 HD Samsung SSD 250GB for Roon + 2nd HD Samsung 4TB SSD for local music
Roon version 1.8 build: 778
HQPlayer: HQPlayer Embedded 4.19.1
Details on your Remote(s) (OS, Hardware specs, Roon build)
iPad Air 2 – 64GB - running iPadOS 14.4 - Roon build: 764
Samsung S10e – running Android version 11 kernel 4.14.113-20607146 – Roon build :764
PC running Windows 10 Pro - Intel® Core™ i7 CPU 870 @ 2.93GHz Ram 8GB, Roon build: 764
Networking details (especially what hardware you're using, how everything is connected, and anything notable about how it's all configured)
Ethernet & Wifi Mesh network built on 3 * Asus Zenwifi XT8
Connected to Service Provider modem
Speedtest connection speed ethernet 93Mbps download – 18Mbps upload
Roon Core connected via ethernet, Remote PC connected via ethernet
Mobile Remotes connected via Wifi
Audio devices in use
T+A 8 DSD connected to Roon Core, using HQPlayerEmbedded, connected via USB
Endpoints : 2 * Logitech Squeezebox Touch , connected via Wifi
Library details
Local library on separate internal SSD 4TB harddisk in Roon Server
Qobuz Hi-fi Sublime streaming service
59018 tracks (3885 albums – 2297 local, 1588 Qobuz)
Backup details
Location 1 : System disk 250Gb on Core Machine
Location 2 : Synology NAS 10,8 TB capacity
Location 3 : USB disk connected to Synology NAS - 7,2 TB capacity
Description Of Issue
Roon crashes (screen blocked) when scolling up in a Tag Album list.
I vaguely remember that this issue has already been reported, but cannot find it back.
The issue can be reproduced, and happens independent on which device you are using Roon.
If you go to Tag browsing, you select a Tag and start scrolling through the albums listed.
Scrolling down is no issue, but scrolling UP will block Roon completely if you try to do that a (small) number of consecutive times.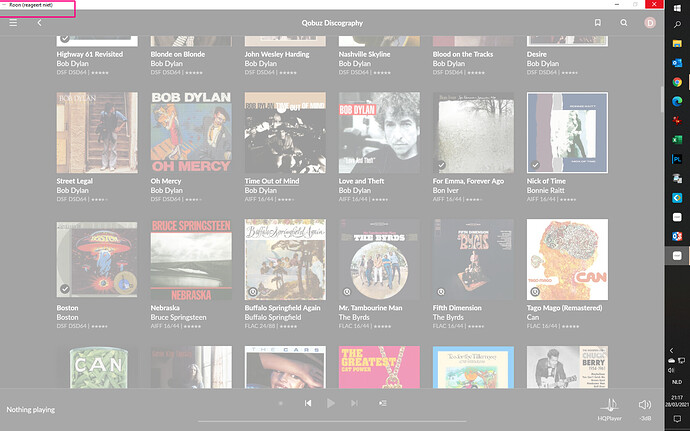 I can reproduce this every time both on Windows 10 PC and iPad.
Dirk