Roon Core Machine
Roon Rock on NUC10 i7 32Mb RAM
Networking Gear & Setup Details
Ethernet with Netgear G105 swtiches.
Connected Audio Devices
Denfrips Hermes DDC via USB to Coax and HDMI to Qutest and Denafrips Terminator.
USB to ifi Diablo.
Network streamer MolaMola Tambaqui via ethernet.
Holo May via USB.
Number of Tracks in Library
19859 tracks.
Description of Issue
(Roon in windows 10 or 11, connected to Rock)
When starting to filter albums and try to filter for Fink, then after writing fi , Roon is shutting down (or maybe crashing) In image below I start to write f , but when writing i , roon is shutting down.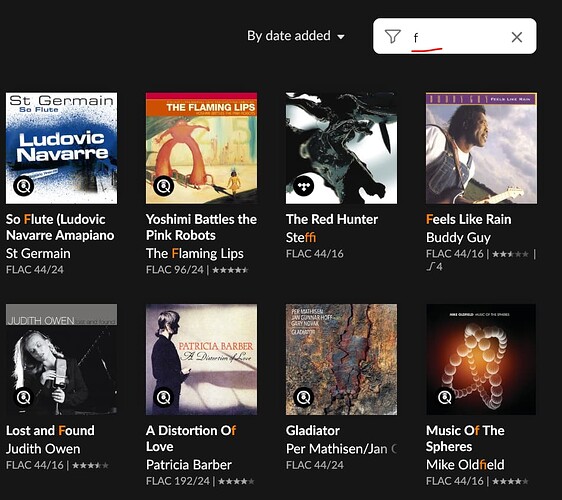 ************ Found solution to this *****************
Found the issue. It was one album causing it. I found it by adding more and more filters starting with years. Then filtering away with filters that did not took away the issue and check that I still have the issue until I had 10 albums left. Took then away the albums one by one until I found the album causing the issue. Test then to add that album back and the issue was not there again. Could also then add back the rest of the deleted albums and now the filtering is working again with all albums. I did all this testing because I thought there was maybe some kind of index issue with filtering and to take away the album maybe recreated the index in place with the issue. Do not really know if there is an index in the filtering or if it's doing it just in the list control in some way. If there is and index, could may be an idea to add re-indexing to it.