Roon Core Machine
Roon Nucleus, OS Version 1.0, Build 227
Networking Gear & Setup Details
The Nucleus is connected via Ethernet and has been running well since I purchased it (December 2021) from Roon. The Network topology is complicated but I can follow up if it is relevant to this problem
Connected Audio Devices
I have many end points from stand alone DAC's to network streamers to Sonos speakers, etc.
Number of Tracks in Library
I believe in the neighborhood of 10,000 to 20,000 - can't get into Roon right now to give you a more accurate count.
Description of Issue
After having been away from Roon for a few weeks, I launched Roon from a mobile device and it couldn't find the core. I tried the same from my desktop computer (Apple Mac) and got the same answer. I can see the Nucleus on my network in Apple's Finder and the backups of my media are occurring as scheduled. I'm guessing the last backup of the Roon database dates back a few weeks - the last time I know it was functional and where I would have made any changes. Entering the URL of the Nucleus into a web browser, I get the following screen: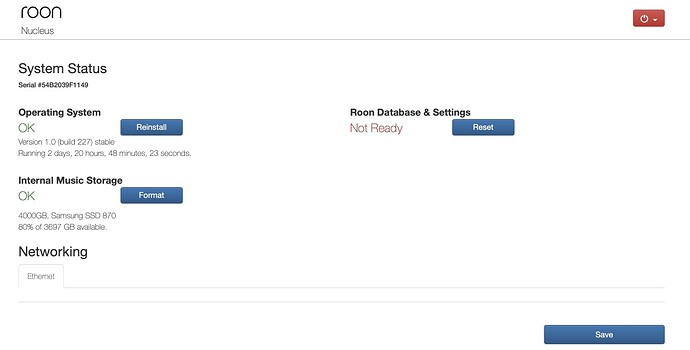 In case the image doesn't come through, it is a screenshot of the Systems Status page indicating that the Operating System is OK, Internal Music Storage is OK, and Roon Database and Settings are Not Ready. I have tried rebooting, physically turning the Nucleus off and on again, and pressing the Reset button on the Systems Status page - all to no effect. I've seen in other posts that this may be an SSD problem but I don't really know.
Your help is greatly appreciated,
Fred