Roon Core Machine
ROCK version 1.0 (build 227)
Intel NUC7i5DNKE, 8Gb RAM, 256Gb SSD (Roon database and settings), 2Tb SSD (Internal Music Storage)
Networking Gear & Setup Details
DrayTek Vigor 2762n ADSL/VDSL router
NetGear ProSafe GS108E switch
NUC ethernet connected, fixed IP address
No VPN
Connected Audio Devices
JBL Synthesis SDR-35, connection using ethernet
Number of Tracks in Library
I use a Tidal account on Roon to access music tracks and currently only use the internal storage to store downloaded tracks from NativeDSD. I only have just over 60 tracks stored at the moment.
Description of Issue
When I purchase new music from NativeDSD I use their downloader to initially store the music on my MacBook Pro. I then use the drag-n-drop method to drag the music folder/files from my Mac to the open Roon application. This has always worked perfectly, since November 2021 when I installed it.
I purchased a new album on NativeDSD a couple of days ago and performed the same procedure as described above. When I check on the little whirling icon at the top of the screen to check what is happening with the download I see something similar to the following -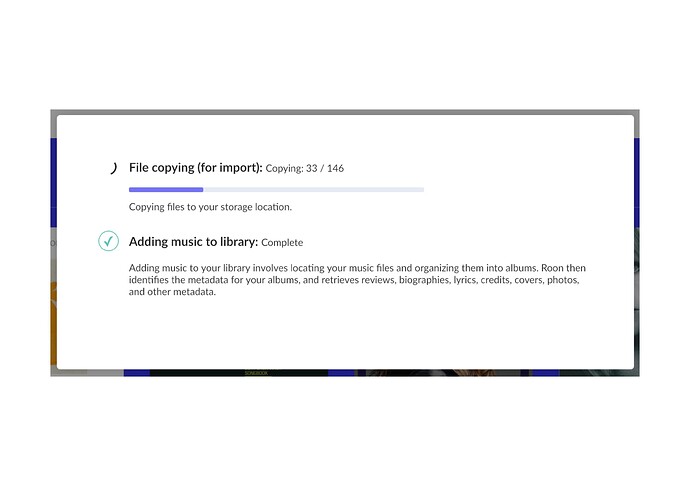 Bizarrely both of the numbers on the copy are increasing with the proportion copied and to copy remaining roughly the same - all of the time, irrespective of how many hours you let it run. On an album with 12 tracks I let this run for over 24 hours and both figures ended up in the 10's of thousands and it was still running. Nothing appeared to have been copied to the internal music drive although the space on the 2Tb drive had reduced by 16%!
In the end, because of the low number of music files on my storage drive I reformatted it, hoping that would solve the problem. I have tried to import the NativeDSD Music Starter Pack this morning and the same thing happens.
Any help, suggestions would be greatly appreciated.