Roon Core Machine
Late 2015 iMac, Mac OS Monterey 12.3.1, 8GB ram, 3.2 GHz Quad-Core Intel Core i5
Networking Gear & Setup Details
Connected Audio Devices
Number of Tracks in Library
Description of Issue
My CD collection is ripped to 2 available external hard drives, 1. a 2TB freestanding Seagate and 2. a Drobo 5c with 9TB capacity. Formerly, Roon watched the Drobo for my CD's and displayed them accordingly under Albums. Not sure when the problem occurred (after an update?), but now I only have my Tidal collection displayed in Roon. When I go to "storage" under settings I see this screen: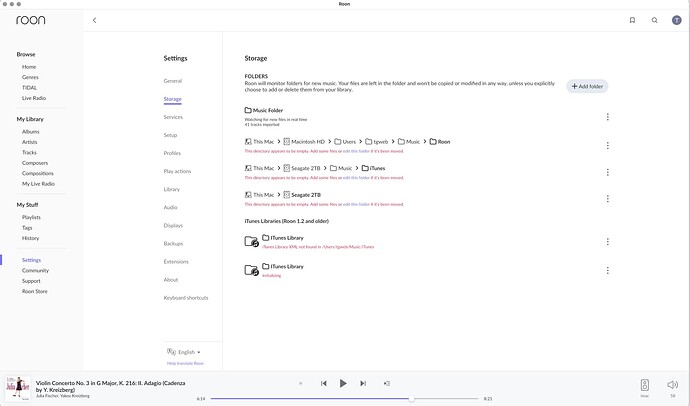 When I select edit on either of those external drives, I get this screen:

Each of the external drives says "error loading folder - unauthorized". The iMac HD lists 1 folder titled "sentinel". I do see the drobo drives attached to the iMac
My question is how might I get Roon to see those external drives, but especially the Drobo, which worked fine in the past.
Thank you