Hi Everyone,
Since discovering Roon, now nearly 2 years ago, I've constantly been a bit stumped at how to be able to enjoy my largish collection on the go, ie using devices which have not been on the same wifi network as Roon.
I think I've cracked a stop gap solution at least until a proper Roon mobile experience comes along.
I've always been a bit "meh" when it comes to streaming, as I really like to acquire the files themselves, and not be at the mercy of a streaming service as to what they want to allow me to access and how. So this left me in a quandary as my collection now runs to around 6tb of normal flac file albums (i call 16/44 to 24/48, normal, as they can be processed "normally" by android). This amount of data precludes portable devices - my largest device has 2 microsd slots thus 1tb of data onboard max, and it's limited to that one device, and onboard storage is cumbersome, lots of toing and froing from pc to cards, trying to track what's on them, avoiding duplicates, etc.
I thought there must be a better way…
A couple of months ago I was checking out pricing of online cloud storage and discovered that the price was tumbling. A 2tb Dropbox account costs around 20€ a month, and now Google is rolling out One with 2tb for 10usd a month or something, at least in the States. Even unlimited storage plans are becoming possible but afaik only available for "corporate" group memberships. Still… it's enticing.
This online boon in storage got me thinking so I started to check out also what the market had to offer in terms of Cloud players, and found something called Cloud Player of all things, which is a spin off of Double Twist, one of the veterans of music players for Android at least. It works with Dropbox, Box, Google and Onedrive.
I took the plunge and enrolled in a 2tb plan with Dropbox and bought Cloud Player.
I uploaded a few hundred albums to Drop Box and linked my Drop Box account with Cloud Player and voila… the result is a clean, aesthetic and ergonomically sound personal streaming service. Here's a screen print. It's entirely configurable in terms of how many tiles you wish to view, columns and such. Nice!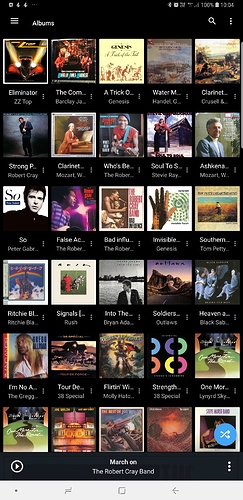 It works extremely well also, and will cast to chromecast.
Now, that could be the end of my story, however, it's where the fun starts as I can integrate my Drop Box activities, automatically into Roon.
By configuring the Drop Box folder on my PC to a folder on a large external harddrive where my Roon-pointed music files are located, I can also point Roon to the Dropbox folder.
Having done this, I can drag and drop files to the Drop Box folder from other Roon-pointed folders. Using Focus within Roon (to show folder contents), I can have automatically updated bookmarks within Roon which indicate for example "Added To Drop Box", or "Not for Dropbox", or "Not listened to yet, not on Dropbox", etc.
The beauty of this is that I can link the DB account to any other device I have, ie DAP, 2 other phones, and Tablets, etc.
The icing on the cake is that Cloudplayer allows for offline storage on any device.
It's pretty nice to have a living collection on the go which is tied to my "master" Roon collection. I know I'm limited to 2tb, so far, on the go, but it's a living thing 2tb is a heck of a lot of sorted, good music to have access to all the time. I will probably add a Google One account to the system when it becomes available here. I even have a OneDrive "free" TB with Office365 I haven't tapped into yet.
There, that's about the size of it. I'm a happy camper until Roon-mobile comes along. I just hope it will allow for streaming from cloud services too