Description My Setup
Details on your Core machine (OS, Hardware specs, Roon build)
Pinkfaun 2.16X Server, running on Audiolinux, AMD 7 3700 processor, 16GB RAM, 1 HD Samsung SSD 250GB for Roon + 2nd HD Samsung 4TB SSD for local music
Roon version 2.0 build: 1211
HQPlayer: HQPlayer Embedded 4.31.0
Details on your Remote(s) (OS, Hardware specs, Roon build)
iPad Air Pro – 128GB - running iPadOS 16.2 - Roon version 2.0 build: 1202
Samsung S10e – running Android version 12 kernel 4.14.113-25257816 – Roon version 2.0 build: 1202 Wifi 6
PC running Windows 11 Home - 11th Gen Intel(R) Core™ i7-1165G7 @ 2.80GHz 2.80 GHz Ram 16GB, Roon version 2.0 build: 1211
Networking details (especially what hardware you're using, how everything is connected, and anything notable about how it's all configured)
Ethernet & Wifi Mesh network (Wifi 6) built on 3 * Asus Zenwifi XT8
Connected to Service Provider modem
Speedtest connection speed ethernet 93Mbps download – 18Mbps upload
Roon Core connected via ethernet, Remote PC connected via ethernet
Mobile Remotes connected via Wifi6
Audio devices in use
T+A 8 DSD connected to Roon Core, using HQPlayerEmbedded, connected via USB
Endpoints : 1 * Cambridge Audio CXN v2 , connected via ethernet
Library details
Local library on separate internal 14TB + 12 TB SSD harddisks in Roon Server
Qobuz Hi-fi Sublime streaming service
73151 tracks (5204 albums – 2687 local, 2517 Qobuz)
Backup details
Location 1 : USB disk connected to Core Machine - 2GB capacity
Location 2 : Synology NAS 10,8 TB capacity
Location 3 : USB disk connected to Synology NAS - 7,2 TB capacity
After finalizing the build 1211 update, a number of albums were added unexpectedly to My Library.
After some research, these albums seem to be all 'duplicates'.
No 'added' albums were displayed in the Home - Recent Activity - Added section.
Now the strange thing: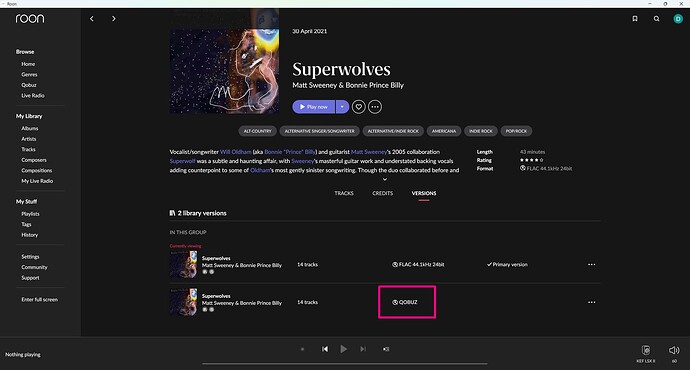 I have added this album to My Library on January 23th. It's format is FLAC 44,1 kH2/24bit .
After the build 1211 update, a second version is added by Roon???, showing format 'Qobuz' .
Where is this coming from and how to detect these duplicates? I was lucky spotting this one, but no clue how many of these 'Qobuz' format duplicates I have.
Extra info:
If I go to Roon - Albums - Focus - Format - Qobuz, I see all the Qobuz versions in My Library.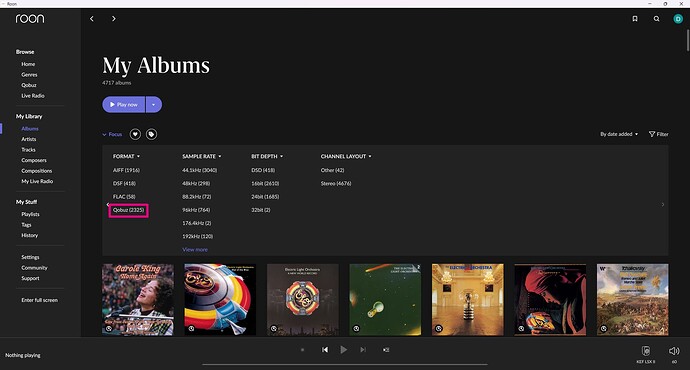 Normally, I use Focus - Storage Location for that.
But all the 'Qobuz version' Albums do have a wellknown format: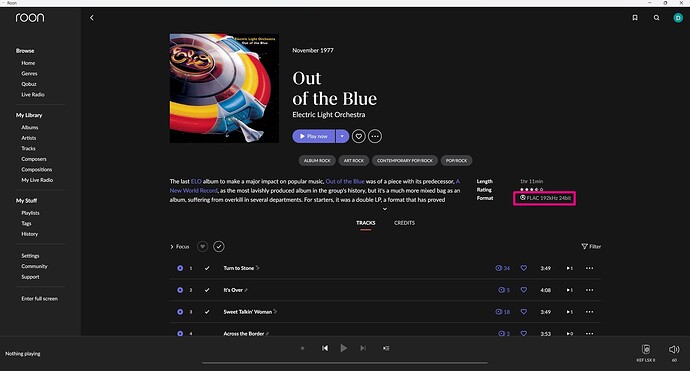 So why are these known formats not used instead of Qobuz? The albums are in My Library, so the information is all there.