Roon Core Machine
Mac Mini 2018
MacOS Monterey 12.3
Roon 1.8 Build 918
Networking Gear & Setup Details
Core is connected to Network Via Ethernet
Connected Audio Devices
Roon Remote on MacBook Pro 2018 (connected via WiFi)
MacOS Monterey 12.3
Roon 1.8 Build 918
connected via USB to active speakers - Kanto TUK (with built-in DAC)
Number of Tracks in Library
51000
Description of Issue
I am reopening a thread that was previously closed. Following the latest update to Roon (which may or may not be the source of the problem) the issue is reappearing.
Roon on my remote macbook pro has stopped displaying a 'This Mac' section in the audio setup and no longer sees the external speakers (Kanto Tuks) that are connected via usb to the remote mac.
It's as though Roon on the Remote MacBook Pro suddenly thinks its running on the Core.
For example, on the screenshot below, the entire section in red, including any option to select the Kanto TUKs or any other Remote 'This Mac' option, has now disappeared: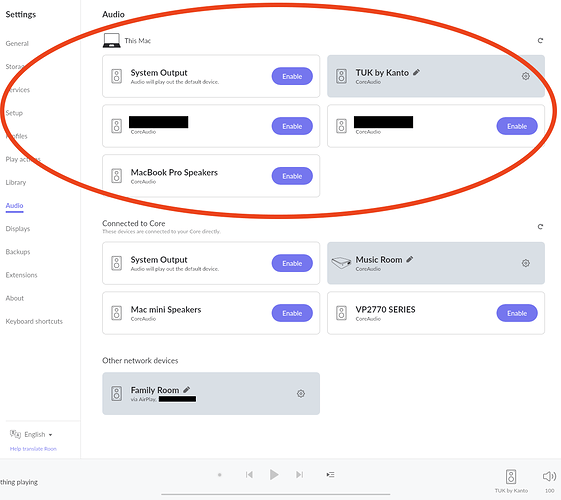 This is what is seen now: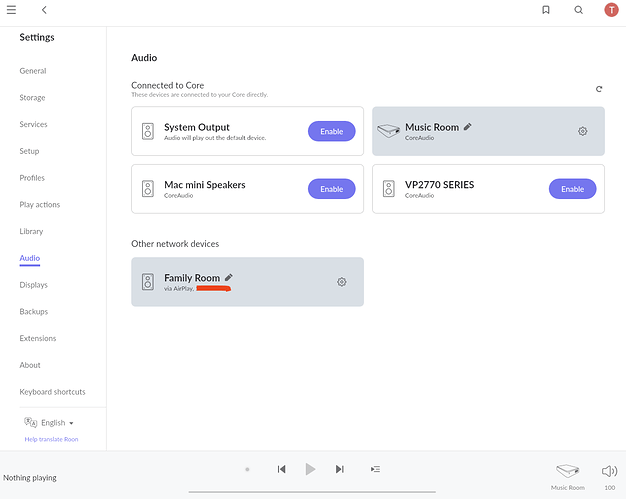 All other applications and system audio continue to play through the TUKs normally.
Rebooting the Core (Mac Mini) as well as the Remote (Macbook Pro) and the TUKs doesn't help. Nor does deleting the databases on my Remote and reinstalling Roon.
Any help would be greatly appreciated. Thanks!