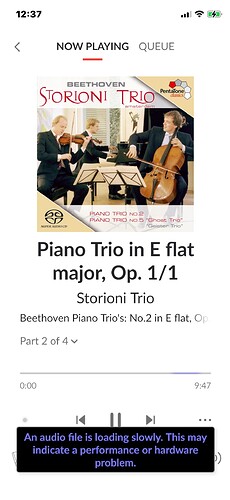 Roon Core Machine
Roon is located on my SonicTransporter i5 and it is running version 1.8. The Sonic Transporter is running version 2.8 of its operating system
Networking Gear & Setup Details
Orbiter router running into an EtherRegen ethernet switch
Connected Audio Devices
The SonicTransporter is connected to an OpticalRendu which in turn is connected to an ifi Pro iDSD DAC.
Number of Tracks in Library
100,207 tracks
Description of Issue
When the system plays a track that is located on my hard drive (but not on Tidal or Qobuz), it will randomly skip to the next track at some point before finishing the previous track It will pause for a second or two and then skip to the beginning of the next track, and do it again When it pauses, it shows the following message:
"An audio file is loading slowly. This may indicate a performance or hardware problem."
From that description, I can't tell if the problem is in the hard drive, corrupt music files, my SonicTransporter, Roon software, or something else I dont understand. Help, someone who is more technically proficient than I am.
Jacob