TL;DR: Library operations in Roon (merging, deleting, and sometimes adding) will cause "Favorite" songs in TIDAL to move from one album version to another version of the same album, and from one album by an artist to a different album by the same artist!
Recent examples: .38 Special, Phil Collins, 10,000 Maniacs
I was browsing my albums the other day and I noticed that it showed my CD version of In My Tribe by 10,000 Maniacs as expected, but that I also had a TIDAL album called Campfire Songs right next to it. I've never favorited that album or any tracks from it in TIDAL because i didn't even know it existed. I did favorite some tracks in the TIDAL version of the Tribe album, and I grouped the TIDAL version with my CD version. So I checked my TIDAL favorites in the TIDAL desktop app and sure enough, the track "Verdi Cries" in the Campfire album was starred!
The corresponding track in the Tribe album was no longer starred. I know for a fact that I favorited that in TIDAL, along with most of the other tracks from the Tribe album.
Similar things have been happenening with several other artists for a while now, but today I got to watch it happen in real time with .38 Special.
I starred several tracks in their Anthology album in TIDAL, but when I went to look at the album in Roon, only some of the tracks appeared. The ones that didn't appear under the Anthology album were actually in my Roon Library, only they were listed under two other greatest hits type albums. So the missing tracks from Anthology were not missing due to any update delays between Roon and TIDAL. They had to be missing for other reasons.
I went back to TIDAL and the tracks of the Anthology album that were missing in Roon (the very ones I had just starred under the Anthology album in the TIDAL desktop app) were no longer starred in the TIDAL app!
I was able to duplicate the same issue with some Phil Collins tracks that I starred in TIDAL, except that the starred tracks moved from one version of an album to another version of the same album (Remastered to Deluxe).
This is a serious bug in communication between Roon and TIDAL. Roon should never be able to change what I physically "favorite" in TIDAL, unless I explicitly add or delete a TIDAL track in Roon. It is completely messing up my carefully curated favorites in TIDAL, which I use for mobile listening, and it is adding redundant flotsam to my carefully curated Roon Library.
I've tried cleaning my Roon Library, but it didn't help.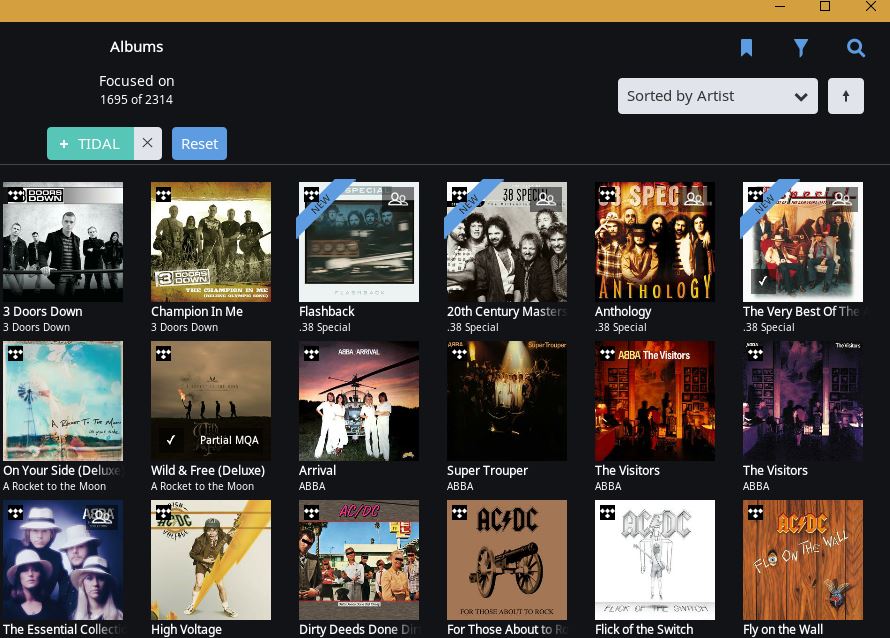 Please note the "New" banners on the random .38 Special albums. It also looks like I'm going to have to re- curate the TIDAL versions of my ABBA albums – note the two versions of The Visitors!
EDIT: Add screenshot and note.