Core Machine (Operating system/System info/Roon build number)
Mac Mini 2012 running OS 10.11.6, 2.3 Ghz Intel Core i7, 16GB memory, SSD
R00n build number: V1.6 (build 416) stable 64 bit
Network Details (Including networking gear model/manufacturer and if on WiFi/Ethernet)
Router: Netgear Nighthawk R7960P-100NAS. The Mac mini running the core server software is connected by ethernet. The MBP's can either be connected via ethernet or wirelessly - same problem occurs.
Audio Devices (Specify what device you're using and its connection type - USB/HDMI/etc.)
MBP's running OS 10.11.6, OS 10.12.4, OS 10.9., They all do the same thing.
Description Of Issue
I am having serious problems with my Roon software ever since I was 'forced' to upgrade to 1.6. I run Roon core on a Mac mini 2012. The software plays fine through the connected DAC (Ayre QB-9) on the Core Mac mini. I also have 3 raspberry's with Audioquest Dragonfly Red's & Black DAC's and I can control them just fine with my iPad Pro.
Here is the problem, with my other connected 2 Macbook Pros (running OS 10.11.6 & they both have Roon Bridge installed) I can see them in my "audio" tab on the core Roon Server software and they are "enabled".
Also in Core Audio on the MBP's the DAC's are selected as the desired output. As soon as I select the DAC from the software on the Roon core or using the iPad Pro and start playing music on the DAC's connected to the MBP's the selected output icon on the MBP jumps up to the "Built-In Output" in the Audio MIDI Setup window (it makes no difference if the connected DAC on the MBP is a Dragonfly Red, Khadas Tone Board or iFi Nano DSD).
The audio comes through the MBP but there is no control of the volume and the desired DAC is no longer selected. This problem is consistent whether the MBP's are connected by ethernet or are running wirelessly.
I have an older Macbook Pro (2008) running 10.9.? and it does the same thing. Never had this problem when running Roon v1.5.
Here are some screen shots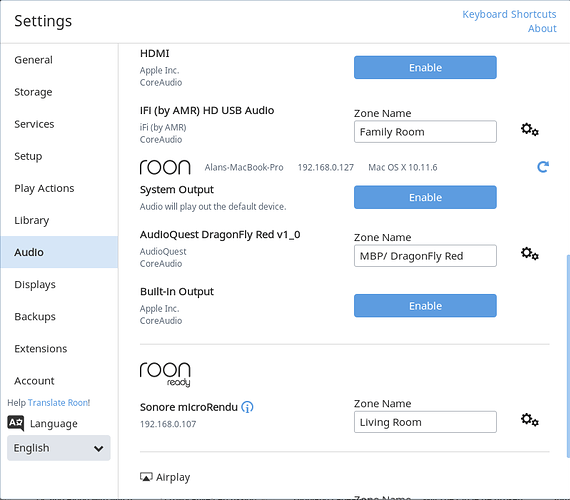 3.In the Audio MIDI window showing the default output: