I really love Roon, and I cherish what it's done for my music library. But one thing that confounds me is the current setup for genres. Not only is it difficult to edit genres, add new ones and so on (Graphical Genre Hierarchy Editor), but I am also dismayed at the existing genre hierarchy.
Case in point, see attached picture.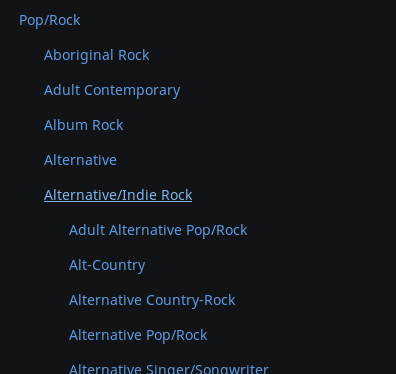 For starters, pop & rock are combined! Both of these should have their own top-level genre. Of course there are many, but I can only think of a few when pop/rock accurately describes a record. It's really confusing and annoying to have pop music littered in with rock music simply because they both have this top level genre. Especially when you want to shuffle a genre (and by the way is the radio influenced by genre groupings??).
Secondly, alternative and indie rock are combined. These are not only disparate musical styles, but they are disparate historically oriented musical styles and combining the both, I think, is just as bad as the pop/rock combination. To add to this, there is the confusingly singular 'alternative' option.
Thirdly, items like 'alternative pop/rock' confuse what their subject matter is. Is it alternative pop or alternative rock? Many pop albums have found their way here. While I'm at it, the "alternative/indie rock" description is the same as "alternative pop/rock".
My request is that we have an overhauled genre list implemented, or at least the ability to manually alter these things including their descriptions, with the ability to combine genres. Pop should be its own genre, not combined with rock. Come on guys

Is this something that would be looked at?