Core Machine (Operating system/System info/Roon build number)
Windows 10 20H2
Network Details (Including networking gear model/manufacturer and if on WiFi/Ethernet)
Ethernet, Unifi
Audio Devices (Specify what device you're using and its connection type - USB/HDMI/etc.)
Trinnov Altitude 16 (works fine), Sennheiser Ambeo Soundbar (works fine), PC with Roon Core and Roon Bridge (does NOT work)
Description Of Issue
I have the latest Roon Core and Roon Bridge software installed on my Windows 10 PC. After starting roon, going to Settings - Audio, I can see the PC appearing for about 2-4 seconds with a couple of devices showing in the "This PC" section as can be seen in the following screenshot: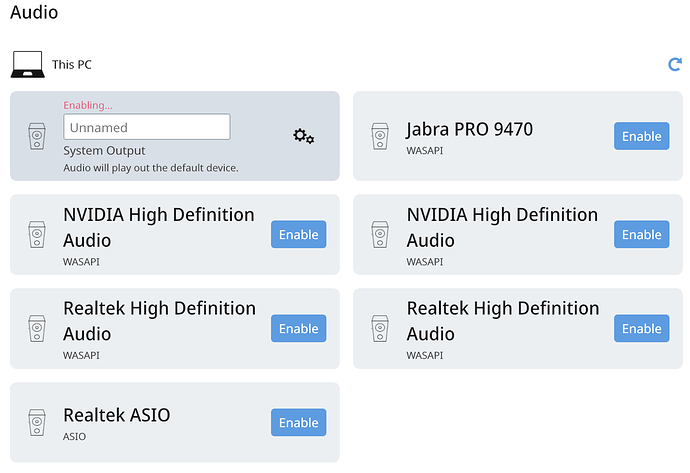 After 2-4 seconds the devices in the "This PC" section disappear and the screen looks like this: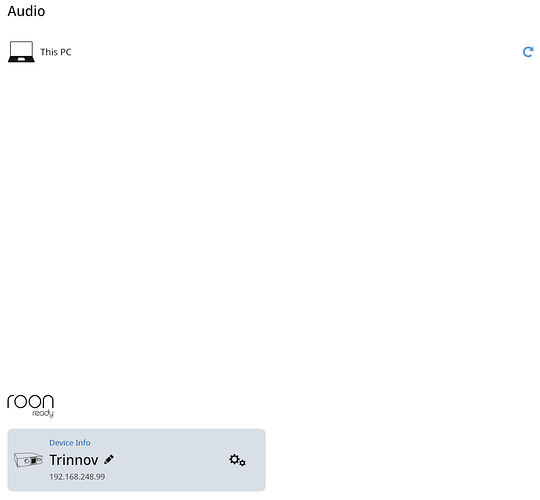 A few minutes later the "This PC" section disappears completely. The Trinnov and the Ambeo stay in the list and can play music as expected. But I cannot get the music playing through the soundcard of my PC. Windows Firewall is off. No other firewall service is installed.