Tapping the rooWatch logo toggles between showing the track info constantly and showing it only when a new track started.
Thanks Klaus, my issue is that previously the track title and artist remained visible all the time, now it disappears until a new track starts.
.sjb
Can you please tap on the rooWatch logo in the upper left and check if the behaviour changes?
Previously tapping the left top RooWatch logo would have toggled the title info on and off.
Now if it disappears this toggle doesn't work, clicking it has no effect.
I think this is what is catching me out as the clicking on the logo seems to work on the next track and it's pot luck as to whether it's always on or briefly on.
So what is probably the issue is that I'm hitting the logo and toggling the title off by accident but then cannot immediately toggle it back on.
Am I making sense ?
.sjb
Ok, I cannot reproduce this ATM, but I will further check. Are you running rooWatch 1.61 on watchOS 9.1 (see rooWatch settings and scroll all the way down). Thank you, Klaus
When i checked the settings (which are correct)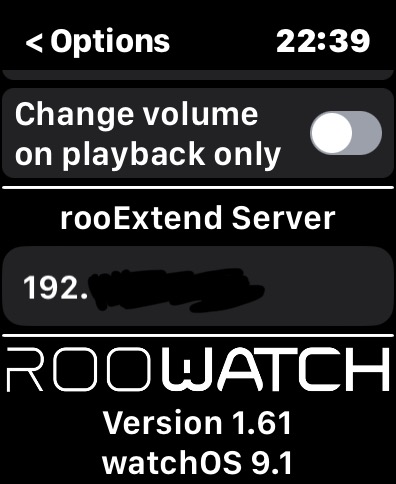 There is now no track details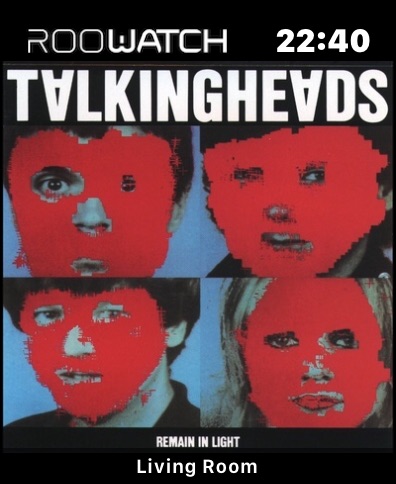 What is probably happening is I tap the logo in this scenarios and nothing happens.
This time I haven't tried to get title info back by tapping the logo and it reappeared and disappeared again with the next track and tapping the logo does nothing.
It's hard to tie down but there is certainly a change, funny if I'm the only one experiencing it.
EDIT might it be that the logo toggle is now only working during the time the logo would show up if the title showing was set to off?
EDIT2 I cannot seem to find out what is the prompt for the title information to disappear.
.sjb
FWIW: I see the exact same as @Sloop_John_B. Latest SW versions. Core on Rock, Roodial on the same Pi4 running smoothly.
There is a new watch os released today maybe some are running it already, along with iOS 16.1.1
another data point for @Klaus_Engel: I see the opposite behavior. Toggling track info on and off works constantly, but if switched off, no info appears when manually starting a new track. I'm not sure for automatic track changes changes yet, didn't have enough listening time in the past two days, but it seems that track info isn't toggled, either. Track info appears if I manually switch albums.
Latest SW versions.
@Kopftelefon: Ok, that i can reproduce and is indeed a bug. A fix is underway in version 1.12 (internal version 1.62). Hopefully this will also fix the issue for @Sloop_John_B and @RBM.
1.12 (internal 1.62) is out. This should fix the problem with the track info.
I have a problem with my playlists, when I want to open them it is empty first, then I have to open them again, then I see them, but when I touch a playlist it does not respond, out again and then again then it will work!
i have the latest version !!
if I wait too long to choose a song or playlist, then it doesn't respond, out then back
Michael
I will look into this. Thanks for reporting!
I had thought that this had fixed the issue but I'm noticing it very obviously again today

.sjb
If you need any more information or if there are any logs I can provide, please let me know.
.sjb
Is there a chance you provide a video so we can see what you do and what goes wrong. If yes pleas mail to info@definiteaudio.de
Best DrCWO
I've sent you on 2 videos with explanations.
Thanks
John
Hi Dr. CWO,
I finally have my RooWatch up and running. I am encountering a strange issue; however. There is an intermittent, faint static sound coming from my Apple Watch (Ultra with latest iOS) only when the RooWatch app is open. Is this a known issue?
No, that's not a known issue. I don't have an Apple Watch Ultra to test and you are the first one who reports this. Let's discuss this via PM.
A feature request:the possibility to toggle a negative volume display. As in -25 instead of 75.