On the RooExtend devises IP address.
.sjb
http://[IP of your Raspberry]/log.html
@Marten_Sytema are you interested in testing rooExtend v2.3.0 Beta. Pleanse answer by PM.
Has something changed in roowatch and Siri – I can no longer get Siri to play playlists even though the text is correct in the entry screen.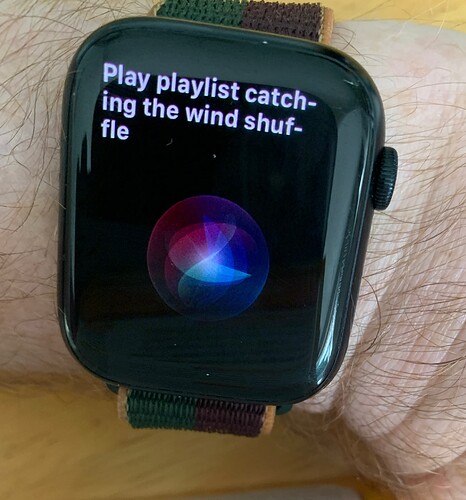 This did work but no longer does.
.sjb
Make sure on your Apple Watch in Settings->Siri->Use with Siri->rooWatch is enabled.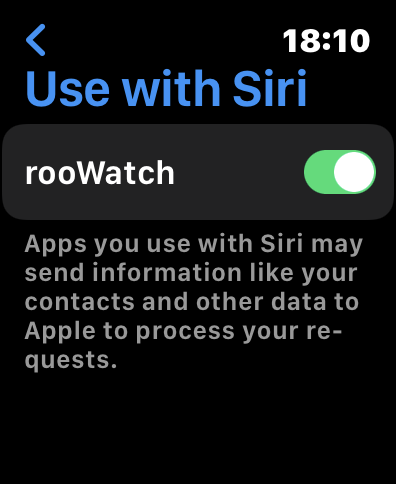 It works for everything else, it's just playlists no matter what way I phrase it. And it did work as I find this so handy in the kitchen while cooking.
.sjb
Try restarting the watch app.
a. Make sure you're in rooWatch
b. Press and hold the side button until the power screen appears
c. Now press and hold the Digital Crown
d. When successful, you'll see an animation of the app closing as it fades to the watch face
Try rebooting the Apple Watch
Try rebooting the rooExtend server.
If this does not work, what happens when you say the Siri command?
That worked on the last option, rebooting the Rooextend server.
Thanks.
.sjb
This has happened twice again this week where I have had to re-enter the licence.
I have sent the logs on to you.
.sjb
Happen on the v2.3.0 Beta 3?
No, I'm unable to test that due to visitors in my music room.
I'll test it again in about 3 weeks.
.sjb
I integrated some additional logging, that's why I asked…
The mechanism is as follows:
rooExtend asks the sellcodes license server once a day if the license(s) are valid. …
Very disappointing to learns that one is completely dependent on your infrastructure and permanent internet access. If I had known this I wouldn't have bought a license, although your software is nice indeed.
Dear @Otto_Wilhelm,
you already decided to to be dependent of foreign infrastructure when you started using Roon. The Roon software is dependent on their servers and also on the internet.
Why you blame me? You also can be disappointed about Roon infrastructure and licensing model?
Best DrCWO
To be fair licensing in roon is only needing to connect to internet for license checks every 30 days they say. Daily is a little bit too often if you ask me.
It's not like this is $10k license fees
I never got into it with wiresharc but my guess is they also check every time you start it.
But you are right, maybe I will change that to a longer period. Nevertheless I think the discussion is about relying on internet and infrastructure…
Thank you, I appreciate it

The dependency of Roon on internet and Roon internet infrastructure is inherent, but the dependency of your nice software on the internet and your infrastructure is deliberate and from my point of view not necessary. You could couple the licenses to a particular email address, I think.
You should understand such concerns. I wish you could health and good luck with your small company - may it flourish and grow. But if your infrastructure is not maintained for reasons out of your control, the licence becomes useless.
Having thought a bit more about this I would like to add that I might have bought the license of rooWatch even if I had known about you licensing approach. I was only very negatively surprised when I learned about it. Therefor I do not regret to have bought it, but I see this dependency of certain infrastructure in the internet even if this dependency isn't technically necessary or even inherent critically. But you you should inform on this dependency more actively, I think.