Hello,
Is this product ROON Certified as they claim? I was planning to get one.
Regards,
Tushar.
No mention of HIFI Rose on Roon's site, so I'd be cautious, no matter what they advertise.
Looking at one specific depiction on their site, I see Airplay as the only protocol through wich to talk from Roon, which will shrink capabilities to 16/44…
So, I'm sorry to tell you to better forget about your wet dreams…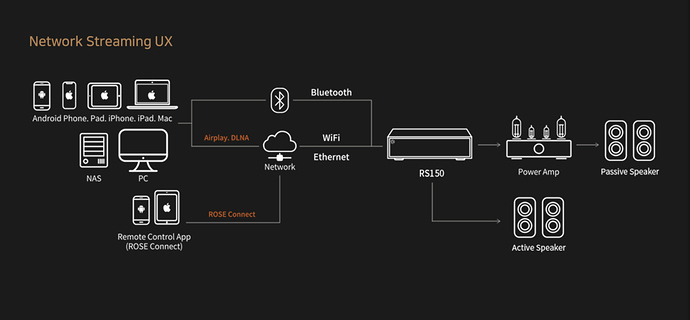 //JOKE
…you can also only use it with either active speakers or tube amps…
JOKE//


I'm ok with that.



…but what's about the poor semiconductor laden amplifier fans out there…
Hello All,
The HiFi Rose RS150 is in-house for Roon Ready certification. We cannot provide estimates on when certification will be completed, but it is in-process.
-John
Encouraging news nonetheless. In several cases, the provider falsely says pending with ROON for certification…
Hi John, can rose 150 will be act as roon core if it obtained the roon ready certification?
If not, how can I use rose 150 with roon?
thanks
Hi, RS150 will be a ROON ready DAC/streamer once certified.
You need a separate core device.