I've been having this problem on and off since day-1 with Roon. I had it working fine for about 6 months or so when for whatever reason Roon lost my library and I had to rescan, so problem has returned.
Here is sample: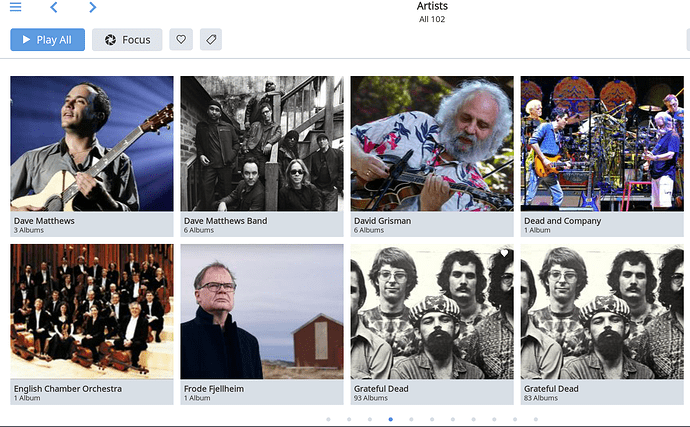 See the Grateful Dead appear twice with different counts of albums. I've confirmed that the albums are unique in to both instances (i.e. first GD instance has 93 unique albums that don't appear in the second GD instance and visa-a-vis).
All the albums within each instance of the group are complete. In that no albums are splitting, just the artist is splitting.
I've poured over the album meta data doing side by side comparisons and am not seeing anything to cause the division.
I know how to fix it, I've done it a few times now, but am getting tired of having to do this every few months. Especially when it involves over 175 albums for the one artist.
The library sits on a Synology NAS that is dedicated to my music files. The Roon Server resides on a 2015 Apple MacMini, fully loaded and dedicated as Roon server only. Everything is hard wired together through a router, these boxes are not wireless.
I'm running the latest version of Roon and the latest version of Mac Mini El Capitan (10.11.6).
Still stranger is that I didn't tackle merging the artist 2 days ago after it reverted, then went to turn on some music and found the albums all under one instance of the artist. Then today I found them split again without touching anything.
Any help and ideas are greatly appreciated.