Roon Core Machine
Roon Rock on a NUC 10i5FN
External USB SSD for Music storage
Networking Gear & Setup Details
Router: AVM Fritz.box 6690 with external USB drive as Network location (NTFS)
Netgear switch
all connectet over ethernet cable
Connected Audio Devices
NAD M33 over ethernet
Focal Arche over USB from the NUC
Number of Tracks in Library
22.000 tracks
Description of Issue
I have scheduled 2 Database Backups: one is backed up on the external USB Drive and works just fine, the other is to a Network share (a USB SSD plugged into the AVM FritzBox) and this keeps failling: Backup directory not available
I have recreated the Backup Task, added a new share (now with the IP instead of the Server Name) and created the Backup Folder within Roon and manually run the first Backup successfully.
But the next day i tried to force another update to that directory and failed.
The Folder is accessable from my Windos PC and I can also browse and create Folders within Roon, just the backup quits with a fail.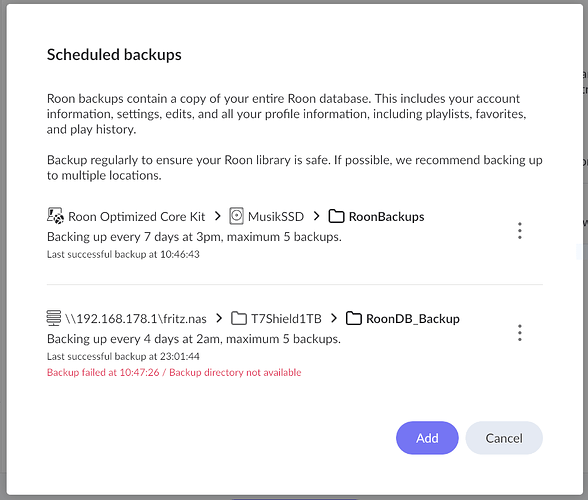 Would be nice to get this running ;o)
thanks