Core Machine (Operating system/System info/Roon build number)
Ubuntu Server 18.04
Roon 1.7 (build 537) stable
Network Details (Including networking gear model/manufacturer and if on WiFi/Ethernet)
Wired network using DHCP (IPv4). Also using PiHole DNS ad blocker.
Audio Devices (Specify what device you're using and its connection type - USB/HDMI/etc.)
Nad M12 (ethernet)
Bluesound Powernode 2 (ethernet)
Description Of Issue
I'm unable to search for new devices. The "Setup -> Configure Roon OS devices screen" just hangs/never completes displaying "Searching for devices…" and no new devices are found.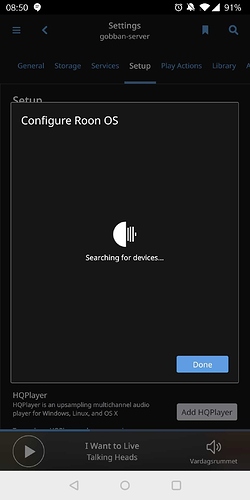 I've tried scanning for new devices on Android 9 and Windows 10 connected to the same core with the same result.
Tailing the /var/roon/RoonServer/Logs/RoonServer_log.txt while doing a devices search gives nothing.
I am using PiHole network wide ad blocker and I was thinking that some url might be blocked, thus stopping the search, but there are no blocked urls there either.
No firewall on the Roon Core. All connections are accepted.
Playing audio on my existing devices (Nad M12/Bluesound Powernode 2) works fine.