Roon Core Machine
Roon Nucleus
Networking Gear & Setup Details
Xfinity Wireless router to ASUS wireless router via Ethernet to Roon Nucleus via Ethernet.
Connected Audio Devices
Mola Mola Tambaqui via Ethernet.
Number of Tracks in Library
Description of Issue
Ever since installing Roon 2.0 and Arc when it was released, I've been receiving multiple alerts on a daily basis from my Xfinity router stating it has blocked a known malicious IP from accessing my device.
The IP locations have been from the US, UK, and Seychelles to name a few. I've include a screen capture for reference.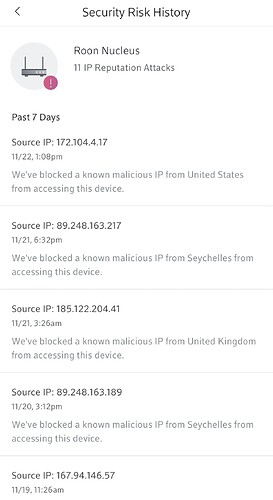 I did not receive these attack alerts prior to installing Roon 2.0 and Arc. Can someone please tell me what the updated Roon/Arc software did to open my Nucleus to this vulnerability?
Most importantly, what can I do to protect myself? Trying to locate support/tips on this forum has been fruitless.