Something that has been bugging me has been what will would happen to this music library and its Roon system when I moved on to another planet (at 87 you know you are ancient and that time is getting closer when your daughter retires!!)? I have spent countless hours to groom it for Roon as described in an earlier post, so the thought of it never being appreciated or used by anyone else was depressing.
Well I was recently delighted to learn my eldest son, also not far from retirement, was interested in this classical music collection. But why should he wait until I moved on? Much more satisfying to see him enjoying it now but that meant assembling a system for him. He is a bit of a luddite about electronic items and, although OK financially, he is anxious to support his son through Uni so I elected to fund any items not already here.
I'm prejudiced against extracting music via USB and accept many are having success with it but being a dyed in the wool audioholic decided to duplicate the system here as much as possible. A completely wired home network system is not possible in his home but a reliable wireless setup was possible using a displaced ASUS router from here.
I already had some other bits and pieces but not a wireless DAC/preamp so research followed to reveal the relatively inexpensive Topfield DX7 Pro was a suitable candidate. Well it duly arrived and proved to be VERY suitable. I A/B'd it against my very expensive Audio gd R8/ Master 9 combo and was shocked to hear VERY LITTLE difference in audio quality via Focal Utopia headphones. But note there is an important caveat here and that is that I am using the very impressing Auralic G1 bridge in the network. It is obviously doing an impressive timing job for the DAC making its challenge of jitter reduction less challenging.
So that posed a challenge for his Roon setup – what should I use as the bridge?. Purchasing another G1 was never seriously considered but The Lumin U1 emerged as a viable alternative and a used one was being advertised for under half RRP so was purchased. Similarly another set of Focal Utopias was not on the shopping list but a used Sennheiser 650 was purchased instead with a balanced cord from www.lunashops.com (excellent range of choices at reasonable prices here) ordered.
A schematic of the resultant system is attached.

It is not fully completed but will be moved into his home by Easter so he can listen to superb classical music on corded Sennheiser headphones (for the best sound), on Sony wireless headphones for casual around the house listening (and that could be his wife) or via AR6 (modified) speakers for more casual listening.
I already had an unused cabinet which neatly houses everything although the space in the back bottom shelf for the 3 docks and HDDs is tight and a bit inaccessible. I had to modify the docks so they were not switched and all the wiring took awhile. The photo shows the standard Sennheiser cable but the replacement high quality copper cabling from Lunashops is on its way. I find setting up wireless gear challenging so will get some help from a pro when it is all finally moved to his home.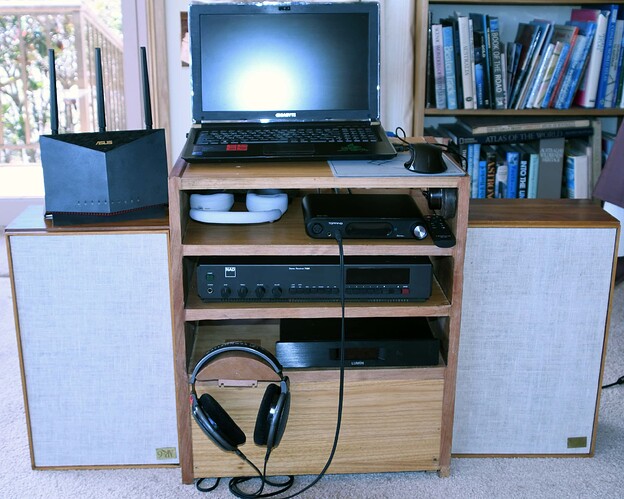 Bottom line, all the effort into editing the music files will not be wasted after all