Core Machine (Operating system/System info/Roon build number)
Ubuntu 20.04.1 LTS (Linux 5.4.0-64) / Intel NUC NUC10i7FNK / Roon 1.7 (build 710)
Network Details (Including networking gear model/manufacturer and if on WiFi/Ethernet)
All Network gear is Ubiquiti UniFi
Audio Devices (Specify what device you're using and its connection type - USB/HDMI/etc.)
Sonos 5 group (2x Sonos 5 Gen2's) over ethernet (WiFi disabled on the Sonos). They are setup in Roon using Sonos Streaming (not AirPlay)
Description Of Issue
I noticed while streaming from Tidal MQA to my Sonos that it's converting from 24bit to 16bit. See below.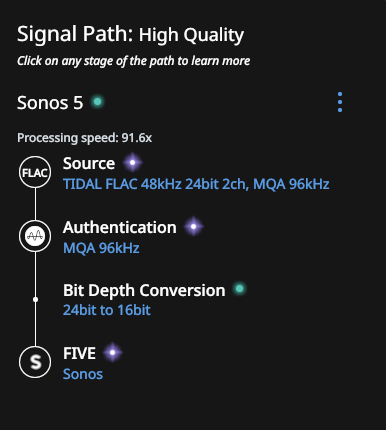 The Same for local FLAC files: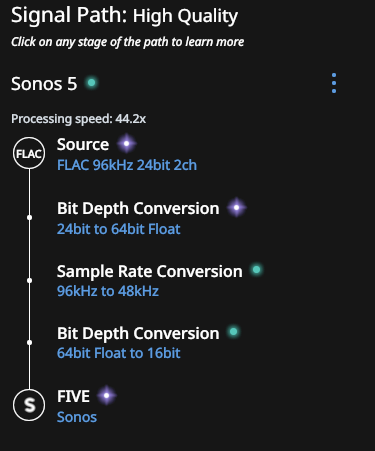 I also tried a 44.1kHz 24bit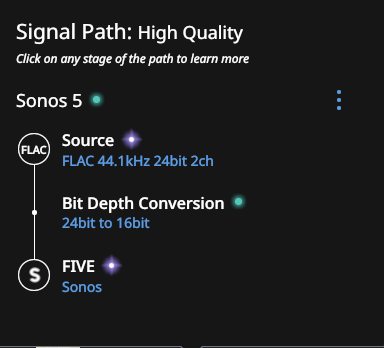 However, according to this Sonos KB, Sonos S2 supports 24-bit (44.1kHz/48kHz, FLAC/ALAC).
So what am I missing? Why is it playing in 16-bit?