I have argued for simplicity in the computer domain, but the concern applies equally to the audio layer. If we are going to matter in the world, we have to simplify the entire stack. I think most of us have friends and relatives who sometimes ask for advice, and today we can't make a reasonable recommendation.
Just look at the ridiculously complex, Rube Goldberg contraption involved when I listen to headphones. It began with a simple topology: the server sends the signals to the DAC/amp.


But then it accumulates crud, like barnacles, and most of it with the goal of reducing noise. Network connection is better than USB because it allows the server to be in another room, and it carries less noise, but the DAC is USB, so we need an intermediary, and wired networking is better than WiFi, and we need a switch, but the iPad needs WiFi, and each of these devices needs a quality power supply, and clean mains power, and the DAC's headphone amp is not good enough with planar cans so we need another one.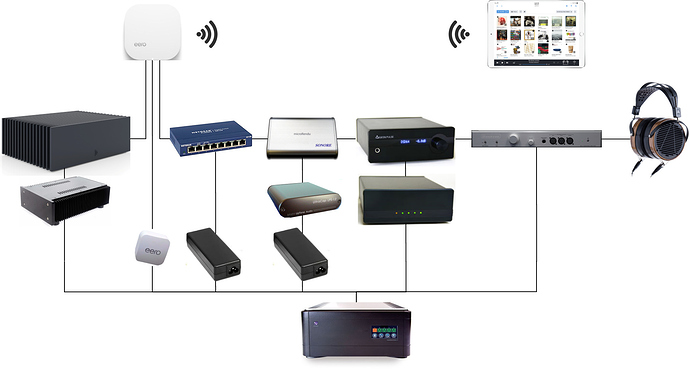 Many of us in this forum would look at each decision and nod, yes, those are reasonable choices — if anything, there are many opportunities for cleansing I haven't gotten to yet (just ask John Swenson). And I haven't even talked about cables. And we see 15 gadgets! Ridiculous.
But this is the pattern of many bad designs I have come across in my career: a long series of reasonable decisions, but the end result is a hodgepodge, because it wasn't architected together.
This all came up because I wanted to improve the headphone rig, bring it up to modern level, there are some "vintage" components in there, a few years old. Considerations for my short list: A thoughtful DAC design. Good amp, not just the digital section. Able to drive my favored Audeze cans. After a lot of listening comparisons, I decided not to make MQA rendering a requirement (I have full MQA in the main system, but unfolding in Roon was enough). Quality gear but no Bentley prices.
I ended up choosing the Hugo 2. It is highly regarded, and recommended in this forum and by friends for its sound. But it lead to a complete rethinking of my system because of one key attribute: it is battery powered.
First, this makes it mobile. Not running or biking or gym mobile, I have the Audeze iSine 20 with its Cipher cable/DAC for that. Just mobile around the house, I can go to various rooms, or out on the deck or in the yard (it's summer where I live). With the previous rig, I had to go to the "headphone room", just like the "speaker room".
Second, I need to connect it to something, and for the mobile thing to work, that has to be mobile too. The Hugo 2 does Bluetooth, but as I said, this is my main listening system, no compromises. But since Roon now supports iPad as a full-capability endpoint, and I need the iPad for the user interface anyway, this is all taken care of.
And third, this eliminates the entire encrustations of noise reduction and power supply cleansing: the entire player, iPad+Hugo2, is battery powered. No wires for power or signal.

This is a remarkable simplification. This is what we need to strive for. And note, I did not compromise sound quality for mobility.
I think it is a good goal to build a fundamentally clean architecture, so we don't have to encrust it with tweaks.
(And once the complex headphone stack disappeared, I can remove stuff from the speaker system as well. But that's a different story.)