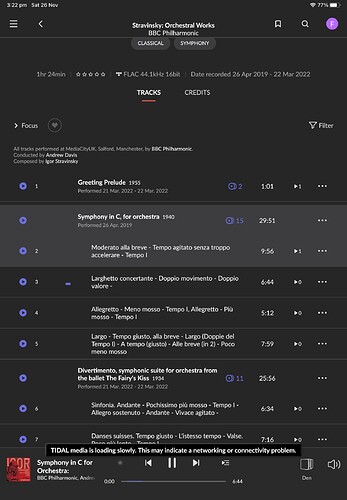 Roon Core Machine
Lenovo I5 tiny form factor. 8th Gen windows 10. 8 Gb RAM 256 Gb SSD. Running headless. Have used this for approx 3 to 4 years
On automatic update so running latest versions
Networking Gear & Setup Details
Sagecom router supplied by Optus. PN 2982013/50115. Ethernet connection to Roon core and Bluesound Vault. Wifi connection to Roon controllers. Usually an IPad but sometimes a windows 11 machine
Connected Audio Devices
Bluesound Vault. Wired HDMI connection to the router.
Number of Tracks in Library
54000 tracks
Description of Issue
Slow response from ROON server. Taking ages to add an album. Am getting. Have included screen shots of Roon messages. Most of my listening is from Tidal and Roon is giving me messages of slow connection to the Tidal server as well. Whenever I get these messages, speed test shows I have a full 50 Mbps download speed so the internet connection is not the issue. I am corresponding with Tidal but wondering if most of the issues arn,t tpart of the Roon server issue

Items layer and added to the library are not bringing in the artwork at all. The last three days, Tidal streaming has been perfect. How can the Roon library data update be turned back on ?




![image|347x500](upload://262kjSdZXecwg0LvydTmOeEGNLG.jpeg)