Is it Qobuz? I searched for a artist in Tidal and it returned the result in ~ 2seconds.
Yes, in my case Qobuz seems to be the issue.
If you search around the Forum this issue is being reported repeatedly.
It's time for @support to make a general announcement and acknowledgement of the issue so we can all stop reporting this repeatedly.
Could this issue be related to where I signed up for Qobuz? I started my account while in the UK and am now in the US.
Thanks,
Vince
Another symptom: When first going to an Artists Album page the Albums flash immediately for a half second or so, disappear, wait 20 seconds or so and then they reappear.
I was trying to show a friend last evening how awesome Roon is, and this happened. He is a very senior SW Engineer. He just said "clearly not ready for prime time".
It looks like my fledgling attempt as an evangelist is limited by the platform.
Doing the same Artist searches in both the Tidal and Qobuz native clients results in nearly instantaneous results. In Roon I am averaging 20 - 30 seconds before search results appear.
Hello @Vincent_Kennedy,
Thanks for the post here. We are investigating a few reports surrounding this issue and are asking users to run a test so that we can have a better baseline of factors surrounding this issue.
Can you please this test the next time you're in this state and respond with the exact local time that you start the test (e.g. 11:38AM) and the time that each step takes:
Open Overview page.
Open Discover page.
Perform a search for "The Beatles".
Open "The Beatles" artist page.
Open the "Help!" album page.
Start playback of "Help!" (how long does it take before it plays?).
Search for "Daft Punk".
Open the "Daft Punk" artist page.
Open the "Random Access Memories" album page.
Start playback of "Random Access Memories".
Thanks,
Noris
I upgraded to 1.6 and got a new server (Sonicorbiter i5) at the same time, and everything got slower, but I figured it would speed up over time. It didn't, and I switched out the ethernet cable sent with the Sonicorbiter to a better cable (Blue Jeans cat6) and things sped up. I still have moments when it regresses to a slower state, but never as bad as before replacing the ethernet cable. Just one more data point.
@noris - Interestingly, this issue appears to be confined to my Android clients. I don't seem to have this issue with my PC's.
I've done a dozen or so searches just now on my PC and they were very fast. I performed different searches on my phone and they are slow. I'll play with my phone later (clear cache, shut down, etc…) and see what happens. My phone is up-to-date with the latest patches from Google. I took the latest security patch for Pixel 2 XL over the weekend.
I'll report back later.
BTW - I don't see Daft Punk "Random Access Memories" here's a screenshot of what I see. the sort is descending, there's nothing between "Motherboard" and "Rinzler":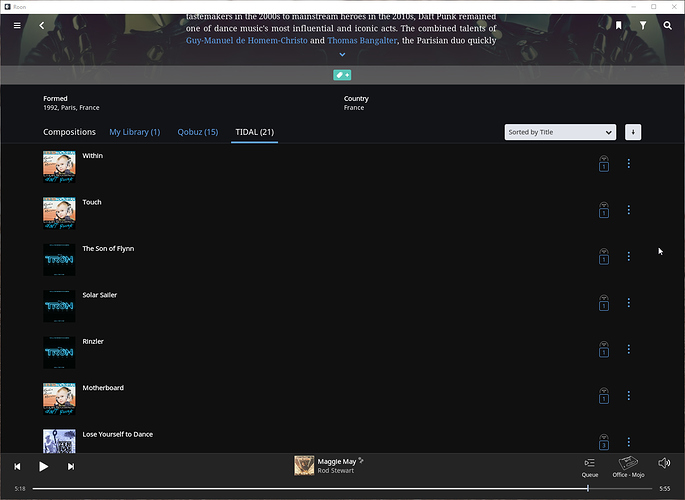 @noris - Oddly, I am not showing any Daft Punk albums when I search for "Daft Punk", just tracks. If I search for "Random Access Memories" I do see the album.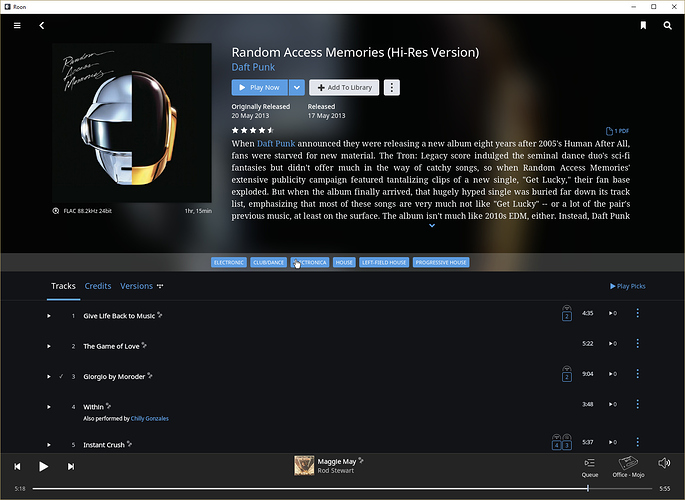 @Noris - and then if I click on Daft Punk in the screenshot above, just under the Album Title, I get the normal listing of albums: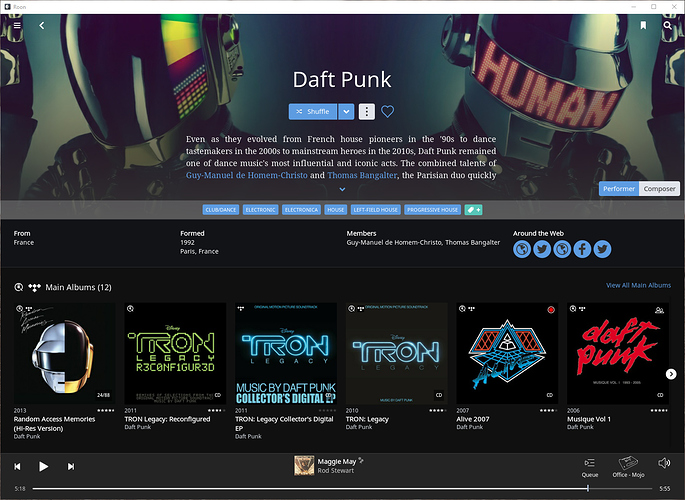 @noris - I just tried this again with another artist that I would never normally search for "Conway Twitty" (no offense Country fans!!) and Mr. Twitty's page came up normally. Daft Punk has repeated the same odd behavior multiple times.
Hi @Vincent_Kennedy,
Thanks for the screenshots here. I believe I've seen this behavior before, if you don't have any of the artist's albums added to your library you will sometimes be presented with just the composer view. I will double check the status of this ticket with the team at our next meeting.
It is certainly strange that you are only experiencing the slowness on Android and not on the Windows client itself. Is this consistent with multiple Windows Roon Remotes? If you can run the previously mentioned test for both your Android and Windows client that might give us some good data to analyze.
Thanks,
Noris
Yeah, this sounds like a bug we're working on – this sound like what you're seeing?
@mike - Yes, that's it exactly!
I too notice that my android remote is considerably slower than the pc, especially at loading albums which can take quite some time. But I still get varying delays using windows to.
I experience the same flashing as you, but the load time fluctuates between two and thirty seconds.
8:03 am ET
signed into Tidal & Qobuz.
Qobuz is a French account; I'm near Philly
Search for daft punk took 1 minute. i have no daft punk in my library.
search conducted while playing a local 16/44 file
speed test results from laptop connected wirelessly attached: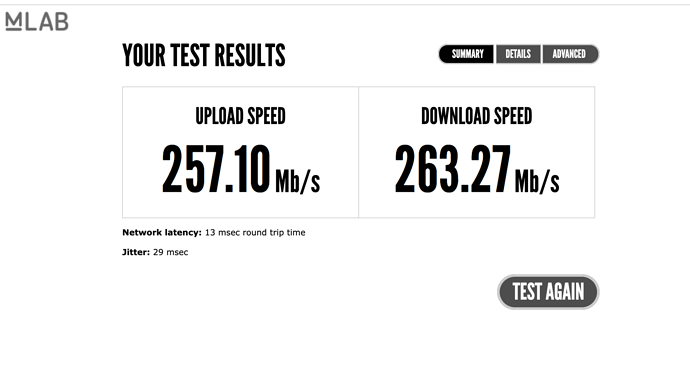 network: FiOS Gigabit
Eero Gateway connected via ethernet to the ONT (no separate modem)
netgear 16 port gigabit unmanaged switch.
Eero mesh wireless network
Core: RoonServer late 2014 mac mini 2.6ghz i5 8GB ram, running 10.13.6
Music Stored on Synology DS216J, 3TB 5400 RPM Sata drives
core and DS216 connected to switch via ethernet
endpoints:
Logitech Transporter #1: ethernet (currently playing music)
Logitech Transporter #2: wireless (not playing)
Logitech Boom: wireless (not playing)
Ropieee: wireless (not playing)
Blusound Node 2: wireless (not playing)
Remotes: late 2013 Macbook Pro 2.4 GHz i5, 8 GB Ram running 10.14.4
iPad Air, iPhone 7 Plus both running iOS 12.2
Speed test from Eero app 808Mps Down, 702 MPS up.
Library Size: 1943 Albums, 25,976 tracks
Hi @Woodford, @Vincent_Kennedy & @ragwo,
Thank you for submitting your additional data points for this issue. We have identified one issue that is affecting performance and it is scheduled to be deployed in our next Roon release. More information can be found here:

I would definitely suggest waiting until the release is out and then we can circle back to this issue and verify if the performance fix has helped. I would also suggest keeping a close eye on our Release Notes Category for when the next release is published.
Thanks,
Noris
Hi everyone,
I wanted to reach out because we've just released Roon 1.6 (Build 416). This update includes a fix for some performance problems we believe may be causing some users to experience slowness in Roon. Please give Roon an update and let us know if things have improved for you.
You can read the full release notes here:
This topic was automatically closed 365 days after the last reply. New replies are no longer allowed.