ROON ARC setup in the Czech Republic (combination ROON CORE NAS Synology X Router Synology x Router ISP Vodafone (UPC)
After a few days of trying, I have successfully launched ROON ARC, so I would like to share the setup procedure in combination:
Roon Core - NAS Synology DS920+
Router - Synology MR2200AC Mesh
Router ISP - Vodafone CZ - Vodafone Station EURO DOCSIS® 3.1 WIFI EMTA modem.
If you are only using a Vodafone modem and have no custom Router behind it, skip point 1. But I reckon that nobody uses a basic operator modem these days.
the ISP's modem needs to be in bridge mode for its own router and network to work properly. You can't do that in the basic setup since the modem uses IPv6. Fortunately, it is already possible to have the modem status adjusted, but you need to contact the operator to switch to IPv4, then the settings will show. More at (Modem Vodafone Station (pro Pevný internet Kabel) - Vodafone.cz)
Next, we will work with the fact that we have selected the base port 55000 (it is possible to select another one)
setting up the Synology NAS DS920+.
Control Panel - security - firewall - edit firewall profile (just edit the profile, no need to create a new one) - edit rules - create:
Ports - custom (port type "destination port" / protocol "TCP" / ports "of ROON's choice, basic 55000)
Source IP address - all
Action - enable

Synology MR2200AC Mesh
Network Center - port forwarding - create - see image:
Name: e.g. Roon
Private IP address - select IP and name of Synology NAS from the selection (IP same as in ROON, note DS 920+ has two LANs, i.e. 2 IPs)
Public port : 55000
Private port: add a worthy one
Protocol: TCP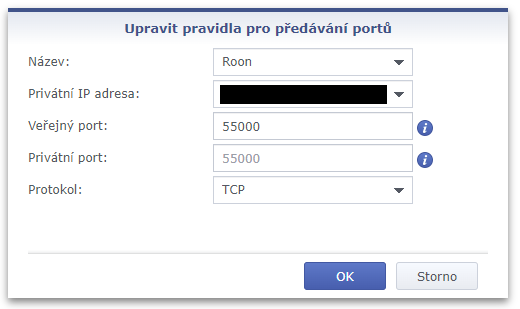 And it's done! No other settings are needed. But I will warn you that if you make other settings in the NAS or Router (port forwarding, VPN, router settings), you may have problems.
Enjoy ROON ARC