Core Machine
B537 ROCK running on NUC 6I5SYK
Network Details
Network (and audio gear) diagram attached below. This problem centers on my wired CAT 6A connected Mytek Brooklyn Bridge (BB). Though for testing purposes I've confirmed the problem persists if the BB is wifi connected also. Network is primarily mesh Eero Pro V2 routers. When the error occurs, I have documented - at the same time as the error - wired download speeds around 300 Mbps, and wifi speeds from 120 to 220 Mbps.
A QNAP TS451 NAS is on the network, with all my local music. But this error occurs when playing local music off the NAS and also music from Tidal or Qobuz.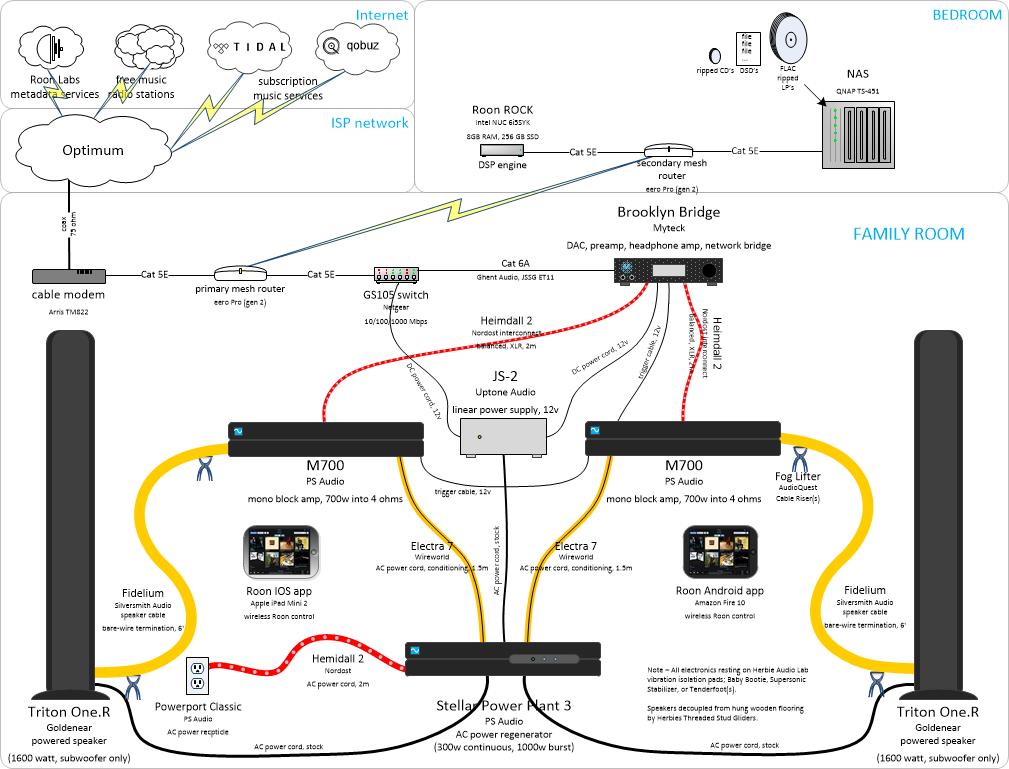 Audio Devices
The primary audio device is a Mytek Brooklyn Bridge (BB). The problem occurs if it is connected to Roon as a network endpoint, via CAT6 cable. It also occurred on a single occasion when a Sonore Sonic Orbiter SE (SOSE) was attached to that CAT6 cable instead, with the SOSE connected to the BB via USB.
Description Of Issue
Some of my Roon Zones have started generating network error messages, indicating that songs are downloading slowly. When that occurs, Roon frequently skips to the next song in the queue. And once this problem starts, it does it very frequently. Every minute or two. The specific error messages vary, depending of the source of the music being played. If playing music from my NAS, its:
An audio file is loading slowly. This may indicate a performance or hardware problem.
If playing music from Qobuz or Tidal its:
Qobuz (or Tidal) media is loading slowly. This may indicate a network or connectivity problem.
Not all of my zones are affected by this. When Roon plays music to - or through - either my Win10 laptop, or iPad, or iPhone, or Kindle Fire Tablet, there is never a problem. And as mentioned above it happened once to my Sonore Sonic Orbiter SE (SOSE) while testing. While the BB generates these errors when connected by Wifi or hard wired, I don't think that it's a network problem. Because, after many, many hours testing (days actually), I can state the following.
I can hook my Win10 laptop running Roon up to the network cable that normally plugs into my BB, and use it as a Zone, sending Roon music via USB connection to the BB, and get no network error messages. Ever.
I can put any of my wifi devices (iPhone, iPad, Kindle Fire, or Win10 laptop) right next to the BB, and use them as wifi connected Roon zones, and I can play music from Roon on them as long as I want and get no such error messages.
This does not seem to be consistent with network problems. The other devices should be having them too, but aren't.
And it's not dependent on what kind of control I connect to the offending zones with, be that control an iPhone, iPad, Kindle Fire, or Win10 laptop. As long any of those Control devices are playing music to my BB as the network endpoint, I get the error messages. So it's not Control platform specific. Nor Control software specific, as there is a wide disparity of Roon builds running on those various devices.
Other salient points
It does not matter if I've got DSP upsampling on or off
It does not matter if I'm playing Red Book (or high res PCM) vs. MQA
The one constant is using the BB as my network endpoint (Roon audio Output). Yet, as mentioned above, I did catch the SOSE do it on a single occasion. Got the screen shot.
This started 4 days ago. I think - but am not certain - that that was when I upgraded my Core to B537.
Were it not for that one SOSE occurrence, I'd have thought it was limited to the BB, and that it might be a thermal issue at that. For the problems generally don't start until it's been on 30 minutes to two hours.
Until this is resolved, I have a really unfortunate workaround… put my Win10 laptop in the stand, use it as my Zone, and USB connect it to my BB DAC.
In the above diagram of my network and audio gear, there is no SOSE. It was attached to the CAT 6A Ethernet cable normally connected to the BB. And it output to BB via. USB. This was done just for testing.
I've got a support ticket into Mytek, but it's moving slowly. And I can't honestly say that I know this is Mytek's problem. Remember the SOSE's one instance? So ANY support/help I can get here will be much appreciated.