Core Machine (Operating system/System info/Roon build)
NUC with ROCK 1.0 (Build 183)
Roon server software V 1.7
Network Details (Including networking gear model/manufacturer and if on WiFi/Ethernet)
2.4 ghz WiFi
Audio Devices (Specify what device you're using and its connection type - USB/HDMI/etc.)
Aurali Aries -wired ethernet
Sonos play:1 - wired ethernet
Sonos One -Wi-Fi
Blue sound flex - Wi-Fi
Raspberry pi3 Roopie -WiFi
Description of Issue
Hi,
I am using 2 different sonos speakers in my apartment, a Play:1 and a new Sonos One with Alexa.
They do show differently in Roon, it seems like the Play:1 is recognized as a Roon tested device wit hits own icon while the Sonos One (renamed Red) shows as a
networked device with no dedicated icon.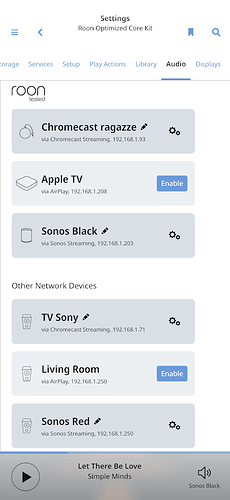 Is anyone experiencing the same ?