Roon Core Machine
Running in a Docker container on Synology DS1618+ running DSM 7.1.1-42962 Update 1
8192 MB RAM
Networking Gear & Setup Details
No VPN, Unifi UDM-Pro Dreamstation router with U6-LR WiFi AP.
Core / Synology is on wired ethernet
App running on Mac over WiFi
Audio devices running on WiFi
Connected Audio Devices
Sonos Playbar and paired Play:3 speakers, grouped (though the issue happens when they are not grouped too)
Number of Tracks in Library
7116 tracks, though the issue was when playing tracks from Qobuz. I'm not sure if it happens with local content.
Description of Issue
When playing some songs today, it worked for a while, but when I jumped to a different album, the sound started throbbing across the different speakers - very quickly getting louder and softer, each speaker doing this at a different rate. As you can imagine, this happening across 5 speakers in 2 rooms is INCREDIBLY annoying. I tried again about an hour later and the problem was still happening so I would expect that if it was a caching issue, it would have resolved in this time.
The same thing happened a couple of days ago when I started playing some other content from Qobuz but it resolved itself in about 10 seconds. This time, it kept going longer, even after stopping and restarting the song (and even now, an hour later).
Signal path thing is showing green for all of the speakers while it is happening.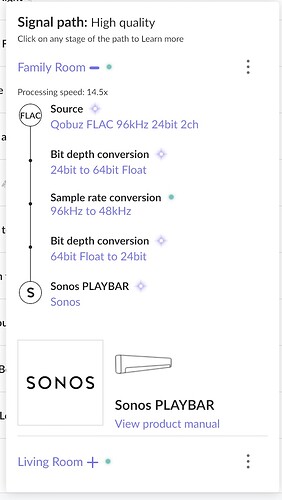 Any suggestions? This has happened a few times. Trying to figure out if it's something I can fix while I'm still in the trial for a few more days.
Thanks,
-Chris