I have heard of well respected rieslings from around Capetown. What else would you recommend ?
Pinotage which is unique to South Africa. Some of the Pinotage blends with Merlot are good too.
I am not what you would call a connoisseur, I spent most of my working life as a Brewer so beer was the main drink .
Virtually all the wines are from the Cape Area, I spent 7 years in the Cape Town brewery as the Brewmaster so it was a bit frowned upon to drink too much wine (publicly) apart from the fact I got more free beer than could drink !!!
The main varietals are Shiraz, Merlot and Pinotage for Reds and Sauvignon Blanc and Chenin Blanc for whites. Funnily enough Rieslings are few and far between.
When we do treat ourselves to a nice bottle I tend to like Delheim or Thelema for Sauvignon Blanc as well as any of the Constantia Wineries such as Buitenverwachting , their Buiten Blanc is reasonably priced . Durbanville Hills seems to get exported quite a lot too their Merlot & Shiraz are quite good. There are just so many.
We are spoiled we get really nice stuff in 3L boxes eg Robertson or De Toitskloof whites and reds and all for < $10 for 3L . Our Excise Duty is very low . So I tend to stick on that except for special occasions.
Our beers are really "normal" lagers for a mass market apart from a rapidly growing Craft Beer industry.
I personally drank Castle Lager mostly , but inevitably every brand as I tasted most days in the brewery, less so in later years as I moved back to HQ in the IT area.
Tonight is
Jackson Browne , Late for the Sky ,
my own unique. Pseudo Greek Mousaka
and Robertson Cabernet Sauvignon
Life's tough but somebody has to do it …

Ps it's about 28 C and the pools sparkling …
Shame about the power cuts …
Pseudo Greek moussaka, shudders… Girds himself…what's that then?
No. I live in Melbourne, which is currently enjoying a terrible smoke haze. Devonport is in North West Tasmania where the Spirit of Tasmania docks. We went on a driving trip to visit some relatives and places I lived whenI was 6.
We got to stay at Boat Harbour Beach a few days, which is as beautiful as depicted below: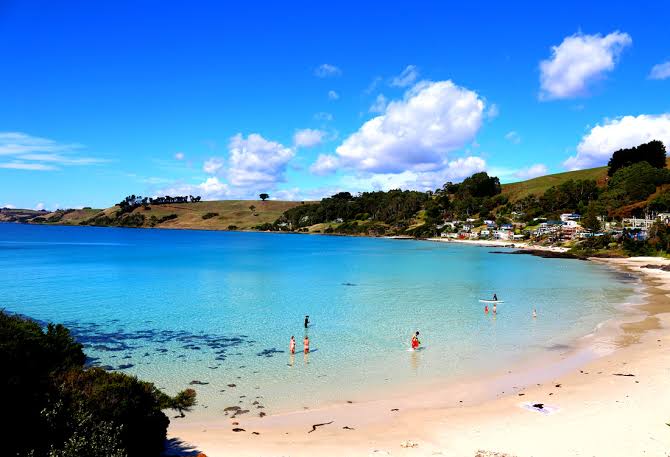 That's alright I suppose, if you like that sort of thing

Very low carb

, hardly Greek
I had an ankle replacement 3 years ago and had to shed some kilos, Low Carb High Fat diet did the trick , aka Banting but with significant changes to eating habits so recipes get somewhat butchered
Bottom line was 118 kg to 75 kg in 18 months !!!
No beer, no sugar no carbs enough creeps in by accident

No carbs I'd be skin and bones…and sad, very sad…
SA Sav Blanc is very good, stylistically similar to NZ. and there's some really good Chenin Blanc as well.