Core Machine (Operating system/System info/Roon build number)
Roon Core is running on a 3 GHz 6-core i5 iMac with 32 GB RAM, Catalina 10.15.3. Roon v 1.7 (build 511).
Network Details (Including networking gear model/manufacturer and if on WiFi/Ethernet)
1Gbps Verizon FiOS optical gateway --> Cat8 Ethernet cable --> Plume.com Superpod router --> Cat 8 cable --> TP-link TL-SG105 switch --> Cat 8 cable --> iMac
Audio Devices (Specify what device you're using and its connection type - USB/HDMI/etc.)
The problem occurs even when I use the iMac's "System Output" audio.
Description Of Issue
Most of the time the Roon as well as the RAATServer processes use only a very small amount of the iMac's CPU (typically ~ 3% for Roon). However, occasionally, for no discernible reasons, the CPU usage spikes to a very high number - e.g., 260%, where it stays. Roon does not appear to be doing anything extraordinary. E.g., there are no indications that it's doing anything with the database, or such. Simply closing and restarting Roon does not fix the issue, but rebooting the iMac and then restarting Roon fixes, it.
I have attached screen shots of Activity Monitor showing the problem below: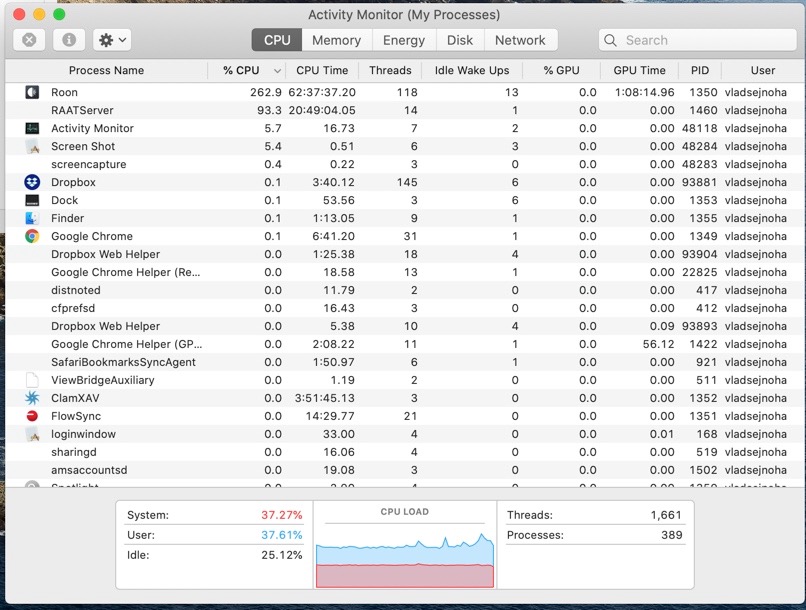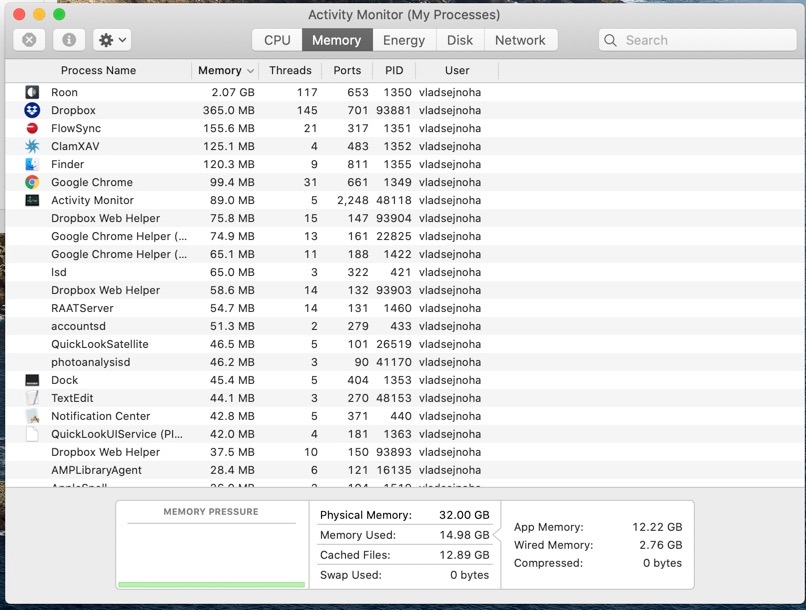 Roon logs: https://www.dropbox.com/s/dwabhxcrrr8ay2g/VladS%20Roon%20Logs%20CPU.zip?dl=0
RAATServer logs: https://www.dropbox.com/s/kugasrt0gsuukno/VladS%20RAATServer%20Logs%20CPU.zip?dl=0
I noticed the problem when "Petits Machins" - a 88.2 kHz 24 bit track from Qobuz - was playing (CPU = 262%). After the system reboot, the same track plays back with a Roon CPU load of ~ 14%.
(Signal Path: System Output, Processing speed: 46.6x, Qobuz FLAC 88.2kHz 24bit 2 ch --> 24bit to 64bit Float --> 88.2kHz to 96 kHz --> 64bit Float to 24bit --> This Mac RAAT --> System Output, OS Mixer).
Thank you very much in advance.
Vlad