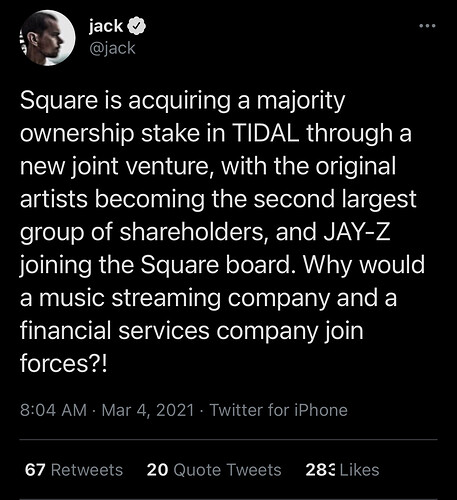 https://twitter.com/jack/status/1367460907958243328?s=20
Interesting developments with TIDAL.
I just fired Tidal over MQA. I wonder if new ownership will pivot away from MQA - If they do, I may re-subscribe.
I'd think of it as a way for both companies (and artists) to generate revenue from merch and physical media sales.
Imagine streaming an album from your favourite band and having the ability to purchase physical media or latest swag within the same experience - conveniently. Smart.
This has been in the rumor mill for quite some time. So finally done. Interesting. Not sure what this means for the future of MQA which I believe is a dead-end.
Square'a CashApp is a good place to start buying Bitcoin
You may tweet to https://twitter.com/jack Twitter and let them know how much you hate MQA. He does read his tweets (he's also the founder of Twitter as well as Square).
Here is the official press release.
As long as this means removing Jay Zed from content decisions and rebalancing what we see on their front "featured" page [moderated] great news.
Do I expect it from the same guy who owns Twitter? Of course not.
Yeah, not gonna happen. Jack is a huge fan HipHop/Rap. In some ways, I don't care though as it's easy enough to ignore Tidal's most popular section or whatever it's called.
Indeed - that's one of the great things about Roon: being able to avoid seeing TIDAL's front page of irrelevant "featured" recommendations and focus on YOUR own musical preferences.
Why would I do that? I, and many users, love MQA.
Hopefully this doesn't change Roon's ability to work with Tidal - if the new owners decide to close off the current working relationship then it only leaves Qobuz for us
For Roon to grow, they really need support as many streaming platforms as they can. They should really add Amazon Music and Spotify ASAP, and, be on top of things with Apple too should they ever go lossless streaming.
Or, maybe it makes roon a square acquisition target. White glove premium experience for the hipster elites or something.
Can't read anything into this except that maybe Tidal will keep going. Maybe.
Not Roon's decision if the upstream provider won't give the necessary access
will never happen IMHO. Whats the added value for them? Adding 100k audiophiles when they have hundreds of millions subscribers? Nope.
Also, this was news to me: Tidal is behind in its payments to artists.
Interesting to see how we Roon/Tidal users feel about shafting the ones responsible for the "content".
(To me that sucks. And I know that even when they're paid it's not enough, but that's another conversation.)
That's why Roon needs to sell them on the idea.