How does the Roon community feel about supporting live musical arts during this time of uncertainty.
The best way to support the live music scene is to buy tickets to gigs or support artists Tip Jars as they perform online gigs.
I am always amazed if I go to a gig, with a world class artist and there are only 40 ish people in the room. Yes, it's exclusive but the promoter is losing money.
My advice, when conditions allow, is to find your local scene (or create it) and see great musicians live, get to meet them, get to know them, support them and life will be so much richer all round.
You won't bugger about with useless hi Fi tweaks either as you will meet music fans without a stick of Hi Fi who will put you to shame…
I've occasionally thought about the "create it" route on the basis of living in the SW of England, in a village with a really good village hall, aware of how many good local artists there are. I'm not sure I have the time right now but if there's any reading/sites you'd recommend to help me think it through I'd be interested?
At LRB, we operate on a not for profit basis and as private house concerts. To operate commercially would be different.
Things you will need are:- A decent PA system and a sound engineer to fly it.
Some decent stage lighting.
Stage monitors, microphones and cables (So so many cables)
Interval music.
A bar that is preferably not in the main room, with people to run it. You will need an appropriate license and a responsible person.
Seating and an audience. (100 is great) You will need a website and social media presence.
A merchandise table and person to run it and look after the money. (This is top priority as a focal point for meet and greet, signings etc)
Bottles and bottles of water for musicians and support team.
Some form of green room for artists with refreshments toilet and wash facilities and a place to store equipment cases.
The ability to arrange accommodation if required.
You will need a support team around you who you can rely on.
Start small and get the feel of just doing it.
Once you have confidence in your venue and your team you will be surprised at the level of artist you can attract. Get to know some tour promoters who are always looking to present their artists.
Going to small gigs and talking with the promoters is a great idea as they will freely share their wisdom.
The musicians union may be helpful also live music promotion magazines. We have The Grapevine in our area.
You will need to decide on the genre of music you wish to promote. Is it to be independent or covers bands?
These guys have given us reviews before and may be helpful
http://www.fatea-records.co.uk/magazine/
http://www.fatea-records.co.uk/magazine/live/SeanTaylorTrio.php/
Thanks Chris, lots to think about there. I think a key concern is that "starting small" is difficult as there's still lots of startup kit and all the ancillary requirements to arrange. I like the idea of partnering with some local artists to get it off the ground, but no idea how I'd find the time at the moment.
Thanks for taking the time to share your thoughts - I'll post back if I ever manage to get something going!
When J started The Little Rabbit Barn he booked artists in his garden and got maybe 30 people in to cover some costs. Emily Barker with the Red Clay Halo was one of the first as Emily was raising funds to record her first album.
It was on this house concert tour she came across the creators of the Wallander series TV show and they invited her to record her song Nostalgia as the them tune for which she won a Royal Television Award.
In more recent times (We went to see and meet her at a sell out gig at Kings Place) and after much success she came back to play for us again twice, one of these was an in house gig for 30 people where she could try out new music in a friendly atmosphere.
It's amazing what happens as a ripple effect to earlier actions.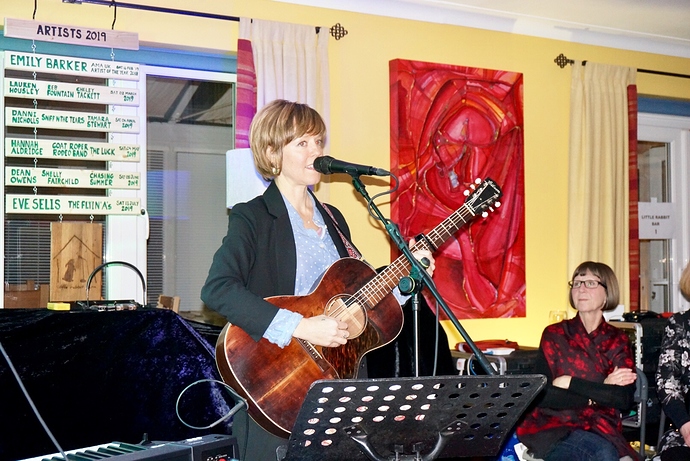 Fantastic - I'm a real fan of her work with the Red Clay Halo!

This is one of the best Hi Fi tweaks ever. If you put on live music, you get to know many artists personally and that gives an even closer connection to the music.
After Covid there will be many artist and sound engineers who will be very keen to get on the road again. I am worried so many small commercial venues may not survive, there is a growing hunger for live music amongst fans and artists alike.
Getting well off-track here.
Evolved into a new thread (well done mods) so right on track now


Conversations in the pub work like this…
I've been using Patreon to support local artists that I like. Some of them, like Whitehorse, have been putting on concerts via FB or IG and doing a virtual "pass the hat" via their website.
Of course, that does nothing for the venues, which were already a dying breed where I am.
One of the most interesting things Iv read about on here. Thank you.
With these current lockdowns live music is severely under threat, let's hope enough venues survive
I agree. I have relived my youth at Manchester university gigs seeing all the punk, SKA and post punk bands again in the last ten years. I'm now moving to the Lake District so less opportunity up there and certainly not a 20 minute train ride away.