New example, same problem. Available in MQA and playing on Tidal. In my collection but does not show in Roon.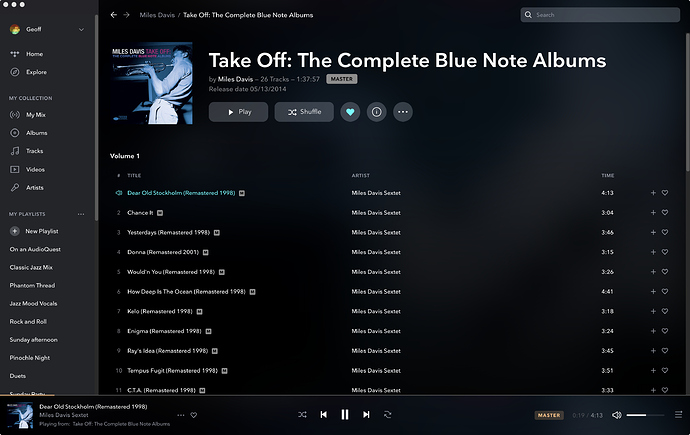 I think this is all the same bug. Search defaults to Composer view and that doesn't then show many albums that would show in the Performer view. That makes it look like Roon is missing Tidal albums that Tidal has. Once a work is added, then that work's performer has his or her Artist page somehow magically be available. It's a mysterious, deep, hard to reproduce but definitely recurring bug.
Thanks, but when I search Roon for the album above I am definitely looking at all the Miles Davis albums available (not looking at the Composer view) because in addition to the 24 Miles albums in my collection there are another 117 available. But not this Blue Note collection.
Moved this to its own topic. @James_I No, that is not the problem here. @dylan will be along to assist soon.
I understand why this was moved to its own topic but…you did not move the posts that deal with the disappearance of the album "Thelonious Monk The Complete Prestige…"
Previously I shared a screen shot that showed this album appearing in my collection of MQA recordings. I will share that screen shot again. However…when I look in my Roon account today that album no longer appears. Will someone explain how this was once available (for months!) as an MQA recording and now is only available as a standard recording?
Nor has anyone explained how it is that the very first recording I inquired about: "Thelonious Monk: The Complete Riverside Recordings" was available on Tidal but not on Roon. Now mysteriously it is is available on Roon. Hooray! But I was hoping for an explanation of the issue.
We looked into this and, when you first posted this, TIDAL had not provided us with any information on this album. Upon checking this morning, that data is now there, so you should be seeing this available in Roon soon.
Apologies for the inconvenience here, Geoff!
Thank you. I now see the Miles Blue Note collection among my Roon albums. But…a larger part of this issue remains unresolved.
Tidal offers the album as a Master with MQA quality. Roon does not.
This must be related to the other issue I asked about above, regarding the "Thelonious Monk The Complete Prestige…"
That Monk collection was available in MQA on both Tidal and Roon for months. Now it is only available as a non-MQA recording on both.
Please share what you have learned from Tidal about all of this, including why I can listen to the new Miles collection in MQA on Tidal but not on Roon.
Many thanks.
The Mile Davis Blue Note Collection is there in MQA (in the US at least). The Issue is that it is not labelled as such (@noris ).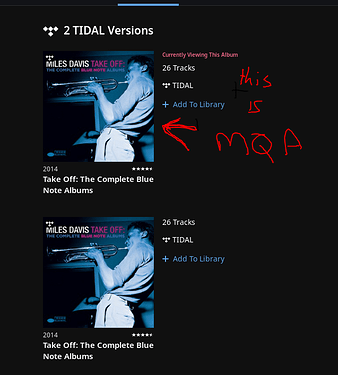 You can tell by playing the 1st song of each. The MQA version will show the MQA decode.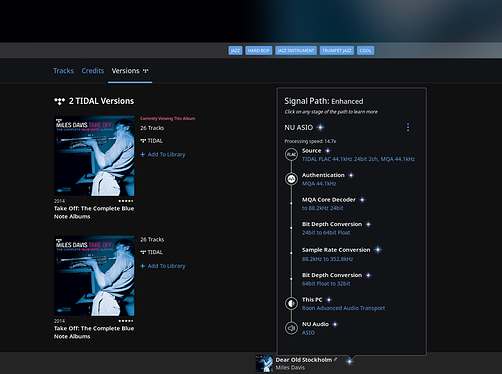 I take your point. But the question remains: Why?
In Roon the album shows two versions. But neither version distinguishes one from the other.
Again: Why?
Oh, I agree it should show MQA version and it seems to be a bug, which is why I pinged Noris with the presented screen pics.
I only get 1 version on Tidal of the "The Thelonius Monk Complete Prestige 10" Collection" box set and it is not MQA. I do get a high res version of it on the Qobuz side of things though, sounds lovely in 24/192.
Yes the "The Thelonius Monk Complete Prestige 10" Collection" box set is now only available as a standard recording on both Tidal and Roon. But it was available as an MQA recording for quite some time.
So I am hoping that Roon can get an explanation from Tidal and share it with us, so we understand why something like this might happen. Because getting information directly from Tidal is not easy for the average user.
There was some data that was previously missing that showed that this was an MQA album. The album would still play in MQA, however. On our end that data now appears to be correctly showing. If you don't already see this marked as an MQA album in Roon, you should see this soon.
Thanks,
Dylan
Thanks. I wish I could say I follow your answer but…honestly I don't.
"Data that was previously missing…showed this was an MQA album"?
I would understand if the MQA data was missing. But what "missing data" shows a file as MQA?
More to the point, I've just checked both Tidal and Roon and neither one shows this album as an MQA recording. I will check again tomorrow and later in the week. But something has been lost in the translation here.
I appreciate your efforts but I simply can't understand what those words mean without some further explanation.
Apologies, I should have specified here. This was referring to the Miles Davis Blue Note Collection you mentioned previously, not the Thelonius Monk album.
Thanks Dylan. Any chance you can tell us anything about what happened with that Monk collection?
This topic was automatically closed 365 days after the last reply. New replies are no longer allowed.