Low profile fanless case for 8th Generation Intel® NUC. Supports Intel® Core™ i3, i5, i7 processors.
Thank you for the heads up, interesting that the i7 is included.
This look amazing. I can see myself buying one of these.
Akasa has also confirmed they are working on a second case which will be an all new design.
That's good to know Jim. I hope the other design is smaller. Did you get a chance to ask them for availability and price on the current model?
Thanks
Looks identical to the X7 that I have my NUC7i7 BNH running rock with no issues
It's supposed to be released in the UK this week and to distributors in the rest of the world in another week.
Do you have any updates on the UK release?
I searched this morning and found a couple sites that have them for pre-order. The new Turing case for Gen 8 NUC will be released shortly as well. Looks interesting.
I certainly wish that Akasa releases a Newton (smaller) case for the 8th generation NUCs. The Plato X8 is too large for the space I have and the style of the upcoming Turing case is not my cup of tea. Oh well!
I just migrated my NUC content to the X7, which is identical to the X8 except perhaps inner mounting. Very happy with the quality of the Akasa case, ran my i3 ROCK for 12 hours straight and the case is barely warm. Highly recommended.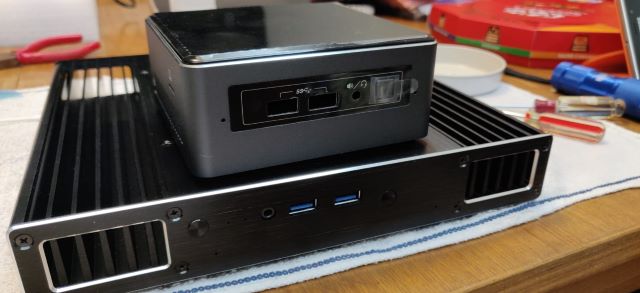 interesting to note the power button and power light are now on the right side

Two fewer USB ports than my Plato X7D (which are there on the front right side).
I thought four would be enough for me, but to my surprise I'm using all six…

I have the NUC7i7BNH also, are you saying the PLAXO 7 will work ok even though Akasa website does not list the i7
been running at least a year ands no issues I do keep it well ventilated and on a cpu cooler if I'm pounding it with a database redo.
I've been in touch with Quiet PC in the UK, as I'm interested in their ability to build the complete NUC/Plato x8/SSD etc. Here is the response I got from Andy Ford at Quiet PC this morning:
"We do have some of the 8th Gen AKASA cases on order for our NUC systems and purchasing seem to think they will be here in around 2 weeks. The fanless 8th Gen NUC's will go up on the website shortly after their arrival."
Quiet PC now listing the Akasa Plato x8 at just over £100, 10 on order, due in three days.
https://www.quietpc.com/akasa-plato-x8
They have also added a product build, the UltraNUC Pro 8 Fanless, starting at £578.08 :
Thanks for sharing, been waiting for this release!