Synology Diskstation DS 1618+ 8GB RAM and 256 GB SSD for Database
Mac Mini 2018 Monterey 12.2.1 3.2 GHz 6 core Inel Core i7 , 32 GB 2667 MHz DDR4 RAM
Synology RT2600ac Router with MR2200ac extenders mostly using Wi-Fi
Oppo UDP 205, NAD C368, Chromecast Streaming
40,000 tracks
Two issues:
The Batman Soundtrack by Micahel Giacchino played just once then stopped playing with an error stating "The track is currently not available from TIDAL." Well the tracks are available and I can play them through my TIDAL app, but not through Roon. I've tried restarting the Roon app, restarting the Core. Logging out and back into TIDAL. Nothing works.

While using my iMac, the playlists will disappear. Roon will state I have no playlists. Restarting the app on my iMac fixes this but I end up doing this 2-3 times a day. This used to never happen and seems to be a new issue.
See Images Below that shows the issue. The first image shows no playlists, but after restarting the Roon App, there are my playlists. Since a restart fixes this, it is a minor pain…for now.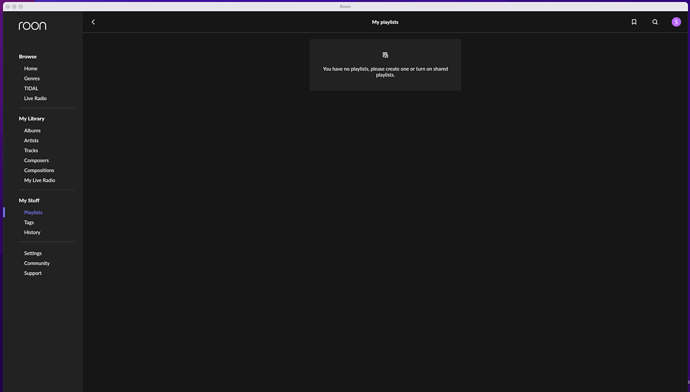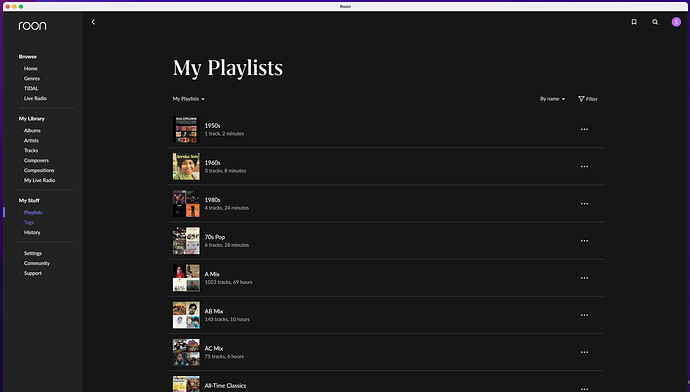 Thanks for your help.