Of course this will only become a mega-thread if we make it so but I'm committed!
"I didn't know that one" means jazz piano trios that are not the classics that we all know and love. So let's skip the Evans, Mehldau, Jarret and maybe even the McCoy Tyners and Booby Timmons.
One more clarification - by jazz piano trio I mean the classic rhythm section of piano, bass, drums. But of course it can be a combo that is led by any of the three, as the most interesting ones are led by the drummer or the bass player.
Now I promise I won't kick anyone's ass if they stray from the rule, but I know this is such a civilised place that people won't even consider it.
Last thing, if anyone from Roon is watching what if we could open IN ROON an album or track from a link posted in the forum? Is that magic or what?
Which of course would mean there would be a way to create such a link from a Roon environment… just saying. Sharing pics is so 1990.
PS - hey, we don't even have a "share to Roon forums option"? I have to save my image to imgur(df is that?) then post here??? come on…
Enough talk, I'll start with my first proposal: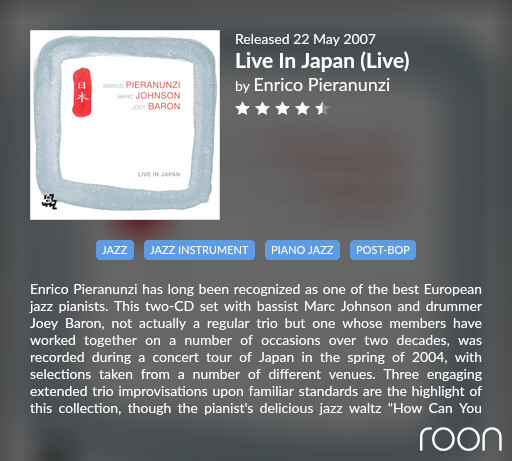 and a tidal link in case someone actually wants to listen to some music
https://tidal.com/browse/album/203653317